Vegan Spinach Artichoke Dip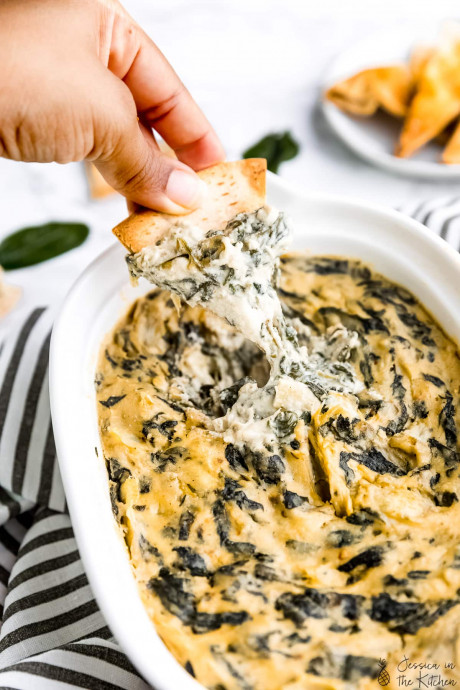 This Vegan Spinach Artichoke Dip is a warm, creamy and cheesy hot dip that is so flavourful! It's incredibly delicious, is easy to reheat, and is such a crowd pleaser! Spinach Artichoke Dip is traditionally made with dairy, and lots of it too, but I'm sharing my favourite ingredients to make this vegan while keeping it incredibly creamy and delicious.
Spinach & Artichoke: These are staples of this dip! The spinach and artichoke add texture, mouthfeel and flavour in their own way. I tested both fresh and frozen spinach (more on that below), and canned artichokes.
Cashews: Raw cashews soaked overnight and blended with the seasonings and milk create a creamy and delicious cheesy sauce for your dip.
Seasonings: The seasonings combined give you that quintessential cheesy flavour for this dip.
Tapioca starch: Tapioca starch gives you a delicious pull of this "cheese" sauce. I don't recommend leaving it out, but you can make it without it and it will still taste incredible.
Vegan Parmesan: For that extra parmesan-y flavour, add in some vegan parmesan.
Ingredients:
10 ounces fresh spinach or frozen spinach
14 ounces canned artichoke hearts (about 1 can) (395g) drained, rinsed and chopped
1 1/2 cups raw cashews soaked in water overnight, then rinsed and drained
1 1/2 cups unsweetened vegan milk
1 teaspoon sea salt
1/2 teaspoon ground black pepper
3 tablespoons nutritional yeast
1 teaspoon onion powder
1/4 teaspoon paprika
1 teaspoon garlic powder
1 1/2 tablespoons lemon juice
3 tablespoons vegan parmesan cheese
2 tablespoons tapioca starch optional, but great for a cheese pull