Pear and Greens Salad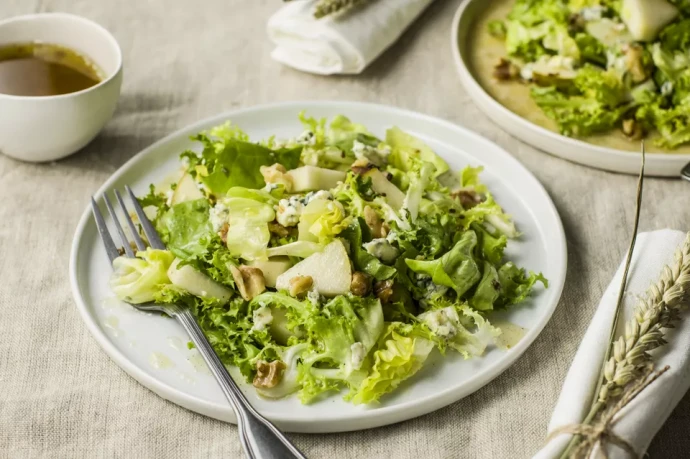 Late fall and winter are the ideal seasons for pears, that juicy and sweet fruit, so this salad is a wonderful way to use fresh fruit at its peak. It's an ideal recipe for holiday dinners. Prepare the pears and toss the salad with the dressing just before serving.
You'll love the combination of tender and slightly bitter greens with a sweet celery seed dressing, juicy and tart pears, blue cheese, and toasted walnuts. This recipe is very simple, but tastes like something you'd get at a fancy restaurant.
Look for pears that are firm yet give slightly when pressed with the fingers. There should be no bruises or cuts on the pears. Since pears turn brown quickly, prepare them just before serving. You can sprinkle a little lemon juice over the pears after they are sliced to slow down browning.
Ingredients:
1/2 cup olive oil
3 tablespoons apple cider vinegar
1/4 cup sugar
1/2 teaspoon celery seed
1/4 teaspoon salt
Dash of pepper
2 heads butter lettuce (torn into pieces)
2 cups frisée lettuce
2 pears (cored and chopped)
1/2 cup walnuts (toasted and chopped)
1/2 cup blue cheese (crumbled)