Butternut Squash Mac and Cheese (Vegan)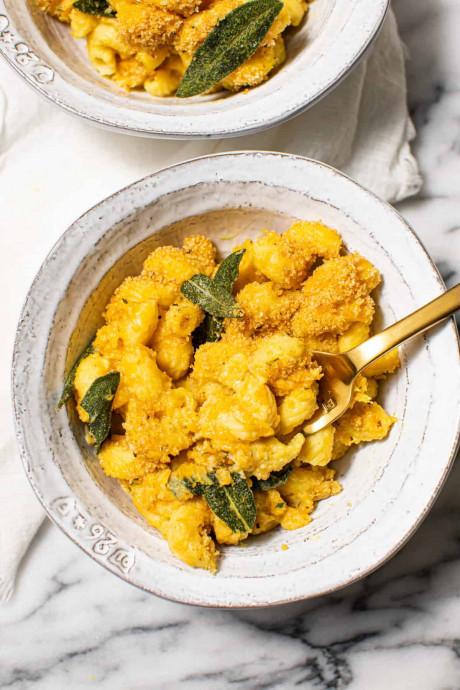 Vegan Butternut Squash Mac and Cheese is a deliciously sweet take on a macaroni and cheese casserole that is so creamy! You'll love this easy dinner recipe!
I'll be honest with you. I've never met a mac and cheese that I didn't like. That said, this vegan macaroni and cheese with butternut squash holds a special place in my heart. Here are a few quick reasons why:
Butternut Squash is Delicious and Easy to Work With: I'm kind of in love with butternut squash. Okay, really in love. They last practically forever (they can last from 1-3 months) and they're super easy to cut and peel. Plus, they're sweet, and even creamier than pumpkin. How could I (and you) not get in on that awesomeness?
It's Flavorful: Like I mentioned above, you can cure your sweet AND salty cravings with just one meal! The saltiness of the crisped sage blends perfectly with the rich, subtly sweet butternut, and your tastebuds are the benefactors.
It's Quick: You can have this dish piping hot and on the table in just 35 minutes, which makes it a great option for busy weeknights! It also saves really well, meaning you get to enjoy fabulous, flavorful leftovers if needed.
It's Comfort Food: I'm pretty sure that mac and cheese in any form qualifies as comfort food. This creamy pasta can be made any time of year, but it's especially comforting in the fall when it starts to get cold outside!
Ingredients:
1 bunch fresh sage stems removed
1/2 medium Butternut Squash peeled, seeds removed and chopped into large chunks
8 ounces pasta regular or gluten free
2 tablespoons vegan butter I like Earth Balance's spread or coconut oil
2 tablespoons flour regular or coconut flour if needed
1 cup vegan milk any vegan milk works
½ cup nutritional yeast
¼ cup panko breadcrumbs + 2 teaspoons of olive oil gluten free if needed
¾ teaspoon sea salt
¾ teaspoon ground black pepper