White Chocolate Almond Cookies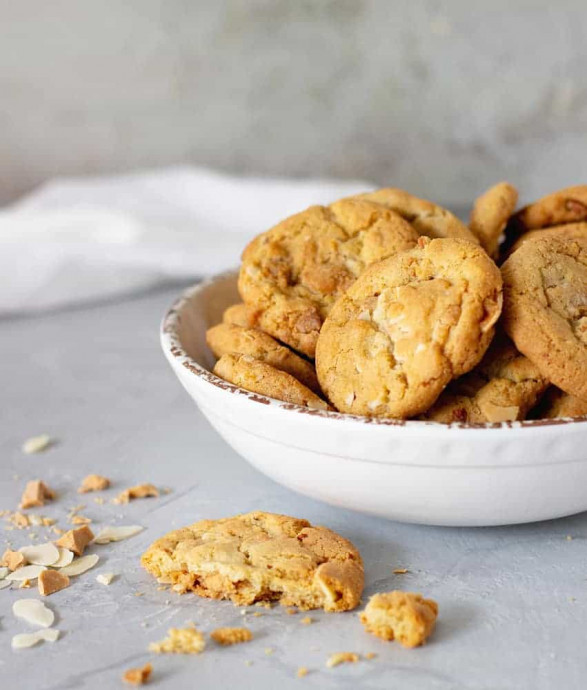 Soft and delicious, these cookies are sweet with a caramel tone and lots of crunchiness from the sliced almonds. The holiday baking is almost here and this one-bowl recipe will certainly make a fantastic addition to your list of baked goodies, your gift-giving boxes, or as a snack to endure this last part of the year!
I'm seriously in love with these white chocolate almond cookies. And for good reason. They're awesome!
As the last part of the holiday season approaches, new and delicious cookies are always welcomed. I know cookie baking at this time of the year is a must.
It's fair to say we can debate this extensively. After all, it's cookies you guys!
But we can agree that a cookie must: be full of flavor, have just the right texture, use mostly pantry staples, and be a one-bowl situation to be called great, right?
These caramelized white chocolate almond cookies are amazing. Simple, tasty, and a crowd-pleaser.
Ingredients:
½ cup unsalted butter, at room temperature
¾ cup light or dark brown sugar
¼ cup white sugar
1 egg, at room temperature
1 teaspoon pure vanilla paste or extract
½ teaspoon pure almond extract
1 ½ cups all-purpose flour
½ teaspoon baking soda
½ teaspoon baking powder
½ teaspoon salt
½ cup sliced almonds, lightly toasted
¼ cup chopped almonds, lightly toasted
¾ cup (150g) white chocolate chips (or chopped caramelized white chocolate, or a mix of white and butterscotch chips, see Notes below)