Magic Pumpkin Cake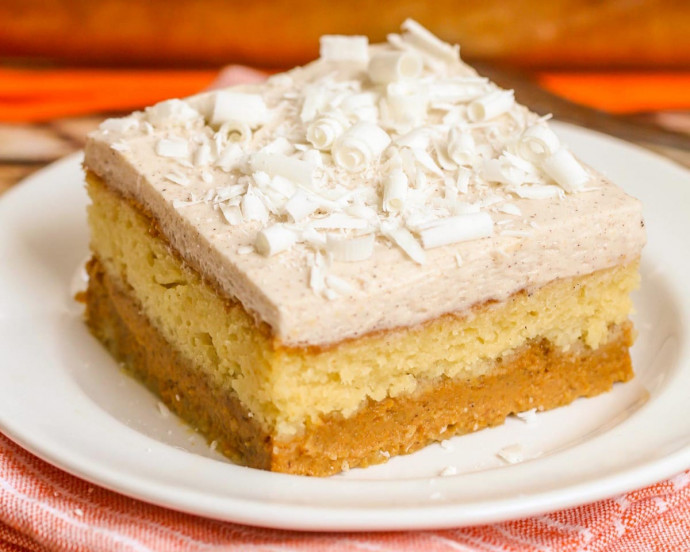 Layered desserts not only look pretty, but usually have an irresistible combination of textures and flavors. This is one of our favorite layered pumpkin desserts. This cake is called "magic cake" because the pumpkin layer sinks to the bottom while it's baking. It's really cool – kind of like a science experiment. My mom says it has something to do with the cake batter being really liquid-y, and the pumpkin layer being heavier and more dense.
You also bake it in the oven for a really long time compared to other cakes, and while it's baking for so long, the pumpkin layer starts to sink down to the bottom. Neat, huh? Just like magic! If you like Pumpkin, you'll love this recipe!
Magic Pumpkin Cake can be made up to a day ahead of time and stored in the fridge. Cover leftovers and store in the fridge for up to a week. Remember, don't mix the pumpkin batter with the cake batter. Just pour over the top.
Once baked it may be hard to tell the the layers have switched. Don't worry, trust the process, frost and enjoy!
Chocolate curls are easiest to make with slightly softened chocolate. Use a vegetable peeler.Be prepared for lots of Pumpkin and Halloween treats because we're going to be making lots of them!
Ingredients:
1 box yellow cake mix PLUS ingredients needed to make - eggs, water, oil
15 oz can pumpkin puree
1/2 c evaporated milk
1/2 c heavy cream
3 eggs
1 c brown sugar
Frosting
1 box white chocolate instant pudding mix 3.4 oz
1 tsp pumpkin pie spice
1 c cold milk
1 c cool whip
white chocolate curls