Blow Ya Mind Cheddar Broccoli Chicken Pot Pie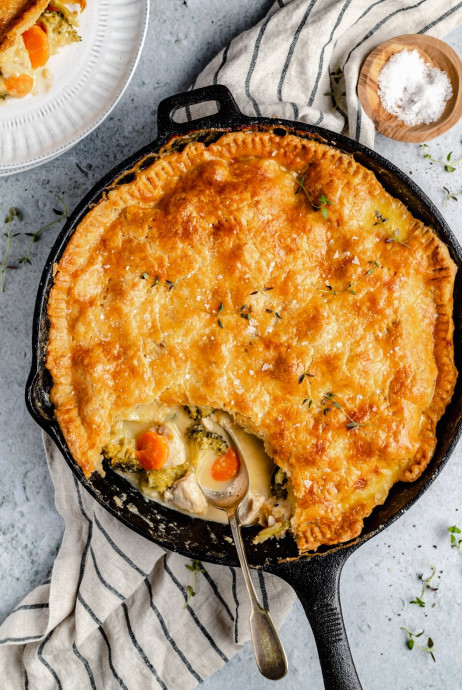 Incredible cheddar broccoli chicken pot pie with an easy, homemade crust that will literally blow your mind! This delicious broccoli cheese chicken pot pie recipe has a lightened up cheese sauce and is packed with protein & veggies for a comforting dinner the whole family will love.
My favorite thing about it is both the creamy cheese sauce that coats every bite, but also how incredible the pot pie crust is. OMG literally the most flaky pie crust on the planet. Don't skip making your own because I promise that it's worth it! This wonderful broccoli cheddar chicken pot pie may look fancy, but it actually uses super simple ingredients to create something truly magical.
Ingredients:
For the crust:
1 cup all purpose flour
1/4 teaspoon salt
1/3 cup COLD salted butter (or regular unsalted butter will work just fine)
1 egg yolk (not the full egg, just the yolk)
1-3 tablespoons unsweetened almond milk
Extra flour for dusting
For the cheese filling:
2 tablespoons butter
¼ cup all purpose flour (or sub whole wheat or GF all purpose flour)
1/4 teaspoon onion powder
1/4 teaspoon garlic powder
1 3/4 cups unsweetened cashew milk, almond milk or regular milk
8 ounces sharp cheddar cheese (about 2 cups shredded cheddar cheese)
¼ teaspoon salt
Freshly ground black pepper
½ tablespoon olive oil or avocado oil
1 pound boneless skinless chicken breast, cut into cubes
4 cups small broccoli florets
2 medium carrots, sliced
Extras:
1 egg, for egg wash