Chai-Spiced Butternut Squash Muffins with Salted Honey Glaze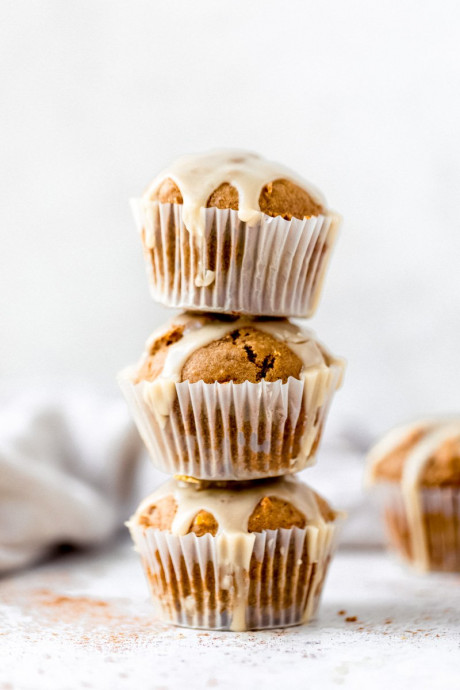 Fluffy butternut squash muffins infused with homemade chai spices, then topped with a simple salted honey glaze that truly takes these to the next level. These fall inspired, freezer-friendly butternut squash muffins are easy to make and have hints of caramel flavor thanks to a touch of brown butter. Perfect with a cup of coffee!
These easy butternut squash muffins are made with simple ingredients you likely already have in your cupboard. They're fluffy, naturally sweetened and the perfect way to use up butternut squash (or acorn squash, sweet potato or pumpkin!). Here are a few key ingredients you'll need to make these muffins extra special. These butternut squash muffins taste very similar to pumpkin or sweet potato muffins, especially if you roast the butternut squash first, as it adds a nice sweetness.
If you're not into chai spices, don't worry, you can leave them out and just add 1 1/2 teaspoon of cinnamon instead, or use 1 1/2 teaspoons of pumpkin pie spice. But trust me when I tell you that the chai spices really do take these muffins to the next level.
Ingredients:
1/3 cup butter
1 heaping cup finely mashed or pureed roasted butternut squash (can also sub sweet potato or pumpkin)
2 large eggs, at room temperature
1/2 cup honey (or sub pure maple syrup)
3 tablespoons unsweetened almond milk (or milk of choice)
2 teaspoons vanilla extract
1 3/4 cups whole wheat pastry flour*
1 teaspoon baking soda
1 1/2 teaspoons cinnamon
1/2 teaspoon ground ginger
1/2 teaspoon cardamom
1/2 teaspoon allspice
1/4 teaspoon salt
For the salted honey glaze:
1/2 cup powdered sugar
1 tablespoon honey (or sub pure maple syrup)
1 tablespoon butter, melted
Pinch of sea salt