Creamy Bacon Chicken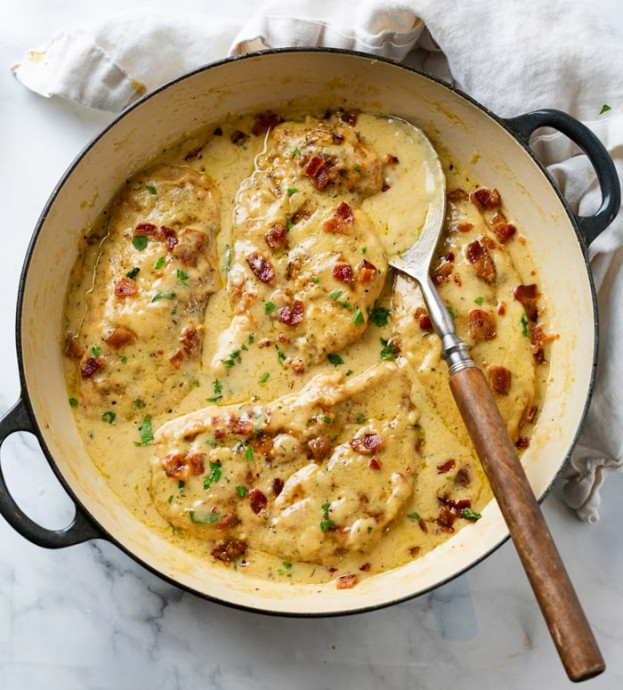 This Creamy Bacon Chicken is an easy skillet dinner with flavorful sauce that you can serve with mashed potatoes and roasted green beans. The roux for the sauce is made with bacon drippings, ensuring that the there is a presence of bacon with every bite!
Anytime I have an opportunity to make a roux with bacon drippings, I take full advantage. It ensures that there is the perfect touch of flavorful bacon with every bite! This sauce is so good over some creamy mashed potatoes or even baked potatoes with roasted vegetables.
Store in an airtight container and refrigerate for up to 3 days or freeze for up to 3 months.
Ingredients:
Sauce
2 ½ cups chicken broth
1 chicken bouillon
1 teaspoon low sodium soy sauce
½ teaspoon mustard powder
½ teaspoon dried thyme
1 teaspoon onion powder
½ cup heavy cream
Chicken
6 strips thick cut bacon, high quality
3-4 tablespoons olive oil
2 large boneless skinless chicken breasts
2 teaspoons Italian Seasoning
Salt/Pepper
1/2 cup + 3 Tablespoons Flour,, divided
3 cloves garlic, minced
Optional
½ cup Parmesan cheese, shredded
Fresh parsley, roughly chopped