Chopped Chicken Salad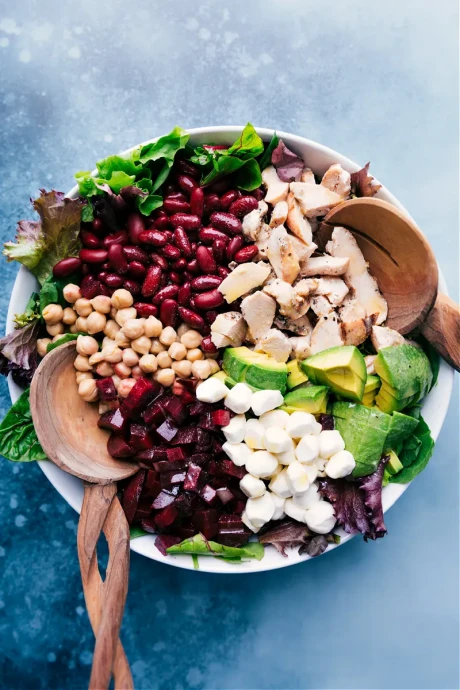 Chopped Chicken Salad employs all kinds of shortcuts to have a nutritious and hearty salad on the dinner table in a hurry! Salad greens are mixed with chickpeas, kidney beans, beets, mozzarella pearls, a creamy avocado, and rotisserie chicken. Use your favorite store-bought dressing or the quick lemon-Dijon vinaigrette included in this recipe!
This Chopped Chicken Salad is part of our Back-To-School Lifesavers — a series of recipes that are intended to have little (or no) veggie chopping, minimal prep time, around 10 ingredients or less (not including pantry staples), and use kid-friendly ingredients.The best thing about a chopped salad? I love getting all the flavors of the salad in one bite. Also, the dressing integrates even better and more evenly. The down-falls? All the chopping. I mean, it's a chopped salad after all! So in Back-To-School Lifesaver form, we're eliminating most of the need for chopping by using ingredients that are already small, like chickpeas, mozzarella pearls, kidney beans, and rotisserie chicken that has already been pulled from the bones.
Ingredients:
8 cups (5 oz; 145g) spring mix lettuce blend or baby spinach
1 can (15.5 oz; 439g) kidney beans, drained & rinsed
1 can (15.5 oz; 439g) chickpeas (garbanzo beans), drained & rinsed
1/2 cup (95g) mini mozzarella pearls
1 cup (160g) diced beets Note 1
1 large avocado (or 2 small)
2 cups (250g) leftover grilled chicken or shredded rotisserie chicken
Good store-bought balsamic dressing OR lemon Dijon vinaigrette (See Note 2)
Optional: miniature naan