Cozy Autumn Wild Rice Soup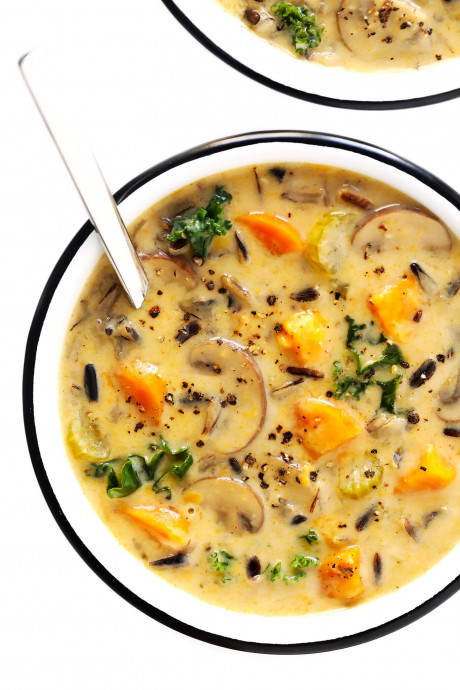 This Cozy Autumn Wild Rice Soup is made with fresh seasonal vegetables and greens, hearty wild rice, and a deliciously zesty, creamy broth (made with either coconut milk or cream). Instant Pot, Crock-Pot and stovetop options all included!
This cozy autumn wild rice soup has become one of my favorite recipes past few winters. It's loaded up with lots of my favorite fresh seasonal produce, from sweet potatoes to kale, mushrooms, carrots, celery and onions. It's made nice and hearty with the addition of wild rice, which just so happens to be lower in calories and higher in protein than many other rices. But best of all, it is made with the most irresistible broth, seasoned with garlic and "the bays," as I call them, and made creamy with either the addition of coconut milk, cream or a roux-based cream sauce.
Ingredients:
6 cups vegetable stock (or chicken stock)
1 cup uncooked wild rice
8 ounces baby bella mushrooms, sliced
4 cloves garlic, minced
2 medium carrots, diced
2 ribs celery, diced
1 large (about 1 pound) sweet potato, peeled and diced
1 small white onion, peeled and diced
1 bay leaf
1 1/2 tablespoon Old Bay seasoning
1 (14-ounce) can unsweetened coconut milk
2 large handfuls of kale, roughly chopped with thick stems removed
fine sea salt and freshly-cracked black pepper