Award Winning Turkey Chili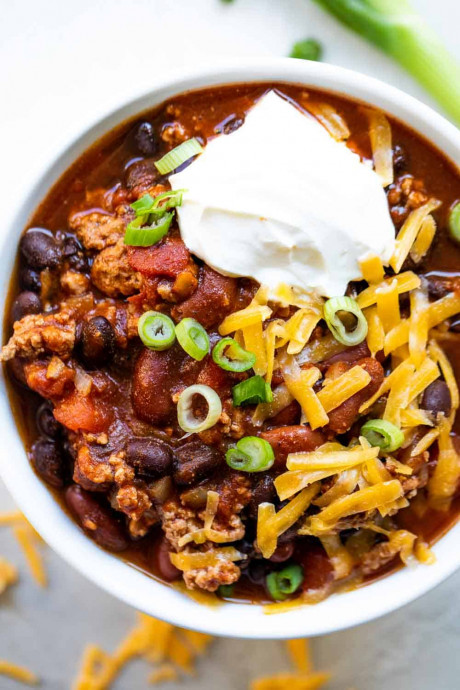 This award winning Turkey Chili is thick and hearty and bursting with flavor. This healthier chili recipe is loaded with tender beans, lean ground turkey, and the perfect blend of spice. You can substitute the turkey for a ground beef, pork, or chicken.
Add in some additional veggies if you want! Some great options are corn, peppers, diced zucchini, diced sweet potato, or butternut squash. If adding in fresh veggies, add them in the last 30 minutes of cooking in the slow cooker, that way they don't get too mushy.
One of the best parts about any chili recipe is being able to customize with your favorite toppings! When serving a large pot of chili for dinner for the family, or if you're expecting company, creating a topping bar is a great idea. This way everyone can top their bowl with what they enjoy. Some ideas are:
Cheese: of course, shredded cheese is a must when having chili! Some mild cheddar, sharp cheddar, pepperjack, or Monterey Jack are all great options.
Sour Cream/Greek Yogurt: the cold creamy tang of either of these options contrasts with the warm heat of the chili and is typically welcomed!
Onions: chop up some white onion or slice some green onion to go on top for a fresh flavor.
Chips: some fresh homemade tortilla chips, or Fritos pair perfectly with this thick chili.
Tortillas: I personally love having a fresh stack of flour tortillas with my chili.
Avocado: another creamy option that helps take off some of the heat of the chili
Hot sauce: for those that need even more heat!
Ingredients:
1 pound turkey, ground
2 cloves garlic , minced
1/2 cup yellow onion , diced
1 (15 ounce can) tomato sauce
1 (14.5 ounce can) diced tomato
1 (7 ounce can) diced green chiles
1 (15 ounce can) kidney beans, drained, rinsed
1 (15 ounce can) black beans, drained, rinsed
1-2 tbsp chili powder
2 tsp cumin
1/2 tsp black pepper
1/2 tsp salt
2 tsp garlic powder
1 tsp brown sugar
TOPPINGS
sour cream
cheese, shredded
green onion, sliced