Yellowfin Tuna With Spicy Mango Salsa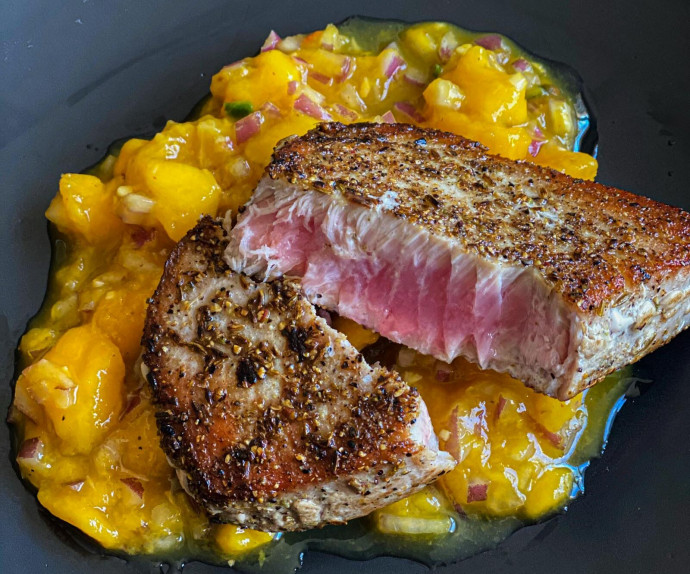 Mangoes are one of the fruits that we enjoy most. Prepared in salsa bring any food you will present it with, to a new level. The sweetness of the mango pairs well with the heat of the Sriracha or sambal, and ginger which adds a second spicy layer. Choose ripe mangoes and that have a fragrant smell to them. The recipe makes 3 cups and will last up to 2 weeks in the refrigerator.
A steak that is firm and dense in texture. Excellent for grilling. The best way to enjoy it is cooked medium-rare, which entails searing it quickly over very high heat. That what I have done here with this recipe. Please do not overcook it as will lose some of the fantastic flavors.
Incredibly nutritious, and packed with proteins, it also contains healthy fats, omega-3, and vitamins, but not recommended to be consumed every day.
Ingredients:
4 fillets of yellowfin tuna
1 teaspoon of fennel seeds
1 teaspoon of coriander seeds
1 teaspoon whole mixed peppercorns
sea salt
ground black pepper
FOR THE SPICY MANGO SALSA (3 CUP)
3 large ripe mangos, peeled and cut into ¼ inch dice
1 medium red onion, peeled and cut into small dice
1 jalapeno, stemmed, seeds removed, and minced
1 ½ teaspoon minced ginger
1 tablespoon Sriracha hot chili sauce, or sambal, or hot pepper sauce
¼ cup lemon juice
salt and pepper to taste