Carrot Cake Bars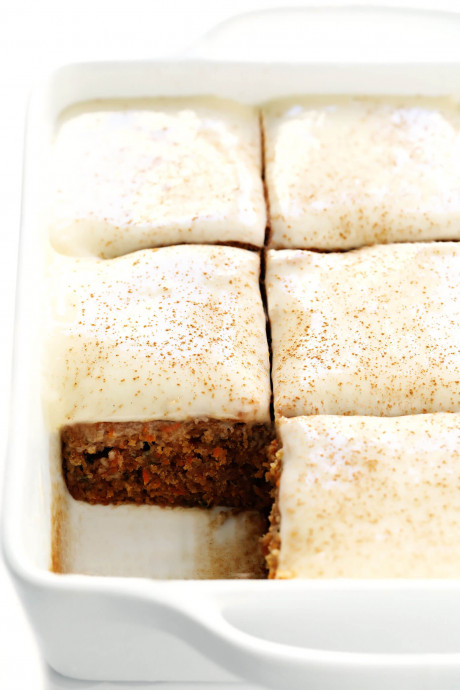 This carrot cake bars recipe is easy to make, perfectly moist and lightly spiced and full of fresh carrots, and topped with the most heavenly cream cheese frosting.These carrot cake bars are made with a homemade carrot cake base that is quick and easy to make, perfectly soft and moist, made with a few simple warming spices, plus lots and lots of fresh carrots. The bars are then topped with my favorite cream cheese frosting, which you're welcome to make as gooey or as firm as you prefer. And together — I'm telling you — the combo is just perfection.
I highly recommend serving these carrot cake bars with a cup of strong coffee or hot tea. And as lovely as they are for dessert, my husband and I will be the first to admit that they make for a fabulous breakfast the next day too.
So who's in for some carrot cake bars?!
Ingredients:
3/4 cup avocado oil (or vegetable oil, or any mild-flavored oil)
1/2 cup granulated sugar
1/2 cup packed brown sugar
3 eggs
1/2 tablespoon vanilla extract
1 2/3 cups all-purpose flour
1 1/2 teaspoons ground cinnamon
1 teaspoon baking soda
1 teaspoon fine sea salt
1/2 teaspoon baking powder
1/4 teaspoon ground nutmeg
pinch of ground cloves
8 ounces finely-grated* fresh carrots
optional: 1/2 cup chopped nuts or 1/4 cup raisins
CREAM CHEESE FROSTING INGREDIENTS:
1 (8-ounce) package low-fat cream cheese, softened
2 tablespoons butter, softened
1 teaspoon vanilla extract
3 cups sifted powdered sugar (use more/less to achieve your desired consistency)