Peanut Butter and Jelly Muffins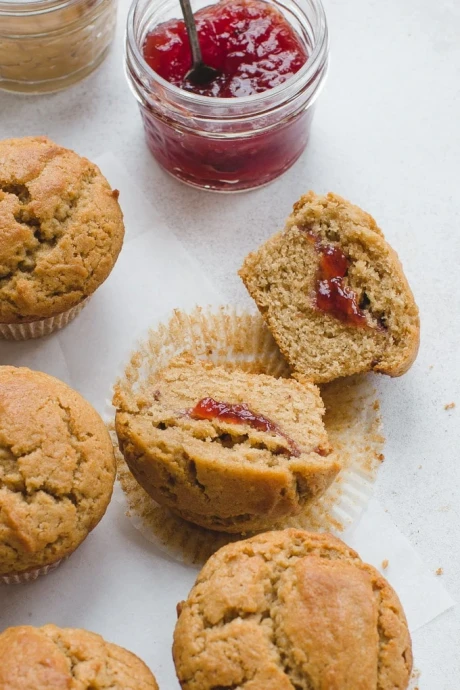 These peanut butter and jelly muffins are a fun twist on the beloved PB&J. A light and fluffy muffin full of peanut butter flavor with a sweet jam surprise in the middle.
There are three things I do in this peanut butter and jelly muffin recipe to make them extra moist and tender. A perfect muffin is soft and moist with enough height to have a rounded dome top. Follow these steps to get the perfect texture in your muffins.
Use creamy peanut butter: I like to use creamy peanut butter, not the runny natural variety. The peanut butter not only adds flavor, but also adds moisture and softness to the muffins.
Oil instead of butter: Using oil instead of butter helps keep the muffins light and fluffy with a soft, tender crumb.
Using milk: Milk adds tenderness to these peanut butter and jelly muffins.
These peanut butter and jelly muffins are best the same day they are made, especially warm out of the oven, but extras can be kept in an airtight container as snacks for up to 3 days. I love to have a batch of these on hand for quick breakfasts or snacks on the go. They are now my go-to instead of a PB&J sandwich!
Ingredients:
1 1/3 cups (185 grams) all-purpose flour, sifted
2 teaspoons baking powder
1/2 teaspoon salt
2 large eggs
1/4 cup (60 ml) canola or vegetable oil
3/4 cup (150g) granulated sugar
2/3 cup (170g) creamy peanut butter
1/2 cup (120 ml) whole milk
1 teaspoon vanilla extract
1/2 cup (160g) strawberry jam