Instant Pot Broccoli Cheddar and Zucchini Soup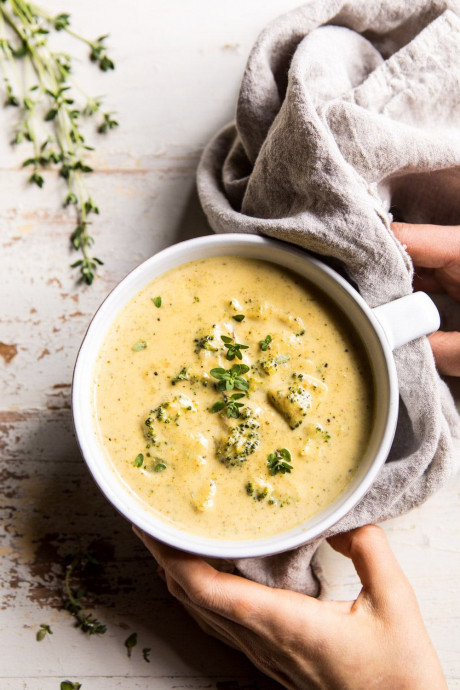 Instant Pot Broccoli Cheddar and Zucchini Soup…that's better than Panera! It's cozy, but healthy, easy, and so delicious. Grab a couple heads of broccoli, some zucchini, and sharp cheddar cheese, add everything to your instant pot (or slow cooker), set the timer, and in under thirty minutes you'll have the creamiest, most delicious bowl of cozy broccoli cheddar soup. Trust me, this will become a new fall favorite.
This recipe includes most of the ingredients found in traditional broccoli cheddar soup, but I added zucchini for creaminess and opted out of using any flour or heavy cream. The zucchini breaks down while cooking, and later gets pureed. This leaves the soup lusciously creamy and thick without having to use any cream or flour. Which of course also makes the soup healthier and even gluten free.
Ingredients:
2 tablespoons extra virgin olive oil
3 tablespoons butter
1 small yellow onion, chopped
1 carrot, chopped
2 medium zucchini, chopped
2 tablespoons fresh thyme leaves, plus more for serving
1/4 teaspoon freshly grated nutmeg
1/4 teaspoon cayenne, or more to taste
kosher salt and pepper
3 cups low sodium veggie or chicken broth
4 cups broccoli florets
2 bay leaves
1 cup whole milk
2-3 cups shredded sharp cheddar cheese