Bacon, Onion, Raclette Potato Gratin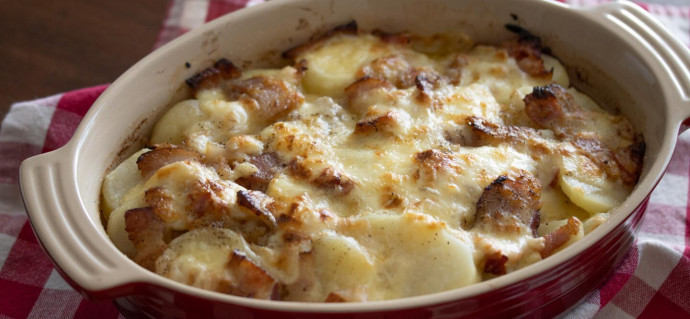 A savory winter potato dish rich in bacon, onions, and melting cheese. Worth each bite and calories. Neither your typical potato gratin.
France is abounding of potatoes recipes. I am sure we may have recipes for each day of the year. After all, it is part of our national plate of Steak, Frites, salade.
This dish that I am sharing with you is an adaptation from the Larousse Cuisine. And with the holidays just around the corner, once you will enjoy this dish, it will become your permanent staple in your cooking arsenal.
The perfect companions to this dish - Prepare a very simple green salad. Rack of lamb with parsley. Lamb requires a hearty side dish and the Bacon, onion, raclette potato gratin is the perfect side.
Ingredients:
3 medium size potatoes, peeled and sliced into ½" rounds
1 yellow onion, peeled and finely chopped
2 tablespoons unsalted butter + extra for the gratin dish
1 tablespoon olive oil
6 slices of thick bacon, sliced into small bite-size pieces
8 ounces raclette cheese
2 tablespoons heavy cream
salt and pepper