Spinach and Artichoke Chicken Quesadillas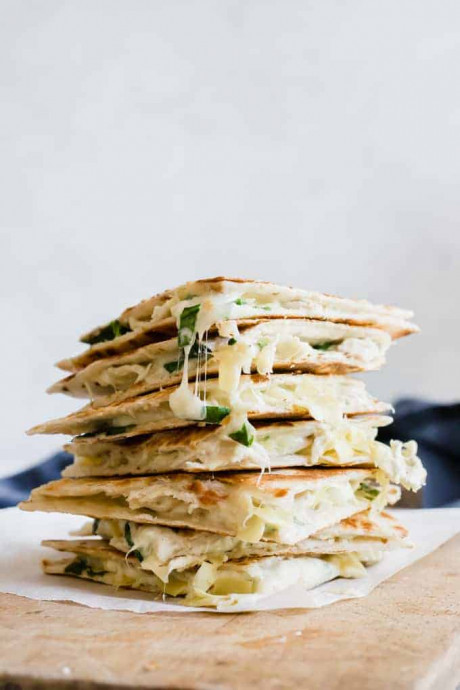 Spinach and Artichoke Chicken Quesadillas. These easy to put together quesadillas are loaded with creamy melted cheese, spinach, artichokes, and shredded chicken. This simple meal is the perfect way to sneak some green veggies into your diet!
This recipe uses cream cheese, parmesan cheese and jack cheese. Making these quesadillas extremely cheesy and creamy. Then they're loaded up with fresh baby spinach, Reese Quartered Artichoke Hearts, and shredded chicken.
You can absolutely make this a vegetarian meal by omitting the shredded chicken if you want.
We will start by combining all of the ingredients for the filling together into a medium size mixing bowl. The cream cheese should be softened, to achieve this you can set out the cream cheese about 30 minutes prior to making the recipe, but if you haven't done that, then you can simply warm the cream cheese in the microwave for about 20-30 seconds, just enough to soften it so that it stirs easily.
If you don't have a microwave you can soften the cream cheese in a medium size saucepan on the stovetop and add the other ingredients to the pan and make the mixture that way.
Ingredients:
4 ounces cream cheese, softened
1 cup fresh parmesan cheese, shredded
1 cup Monterey Jack cheese, shredded
2 cloves garlic , minced
1 (14.5 ounce) Reese Quartered Artichoke Hearts, drained and roughly chopped
½ cup fresh baby spinach , roughly chopped
1 cup chicken, cooked and shredded, or rotisserie chicken
10 flour tortillas, can be any size, recipe is portioned for 6 inch tortillas