Cheesy Corn Fritters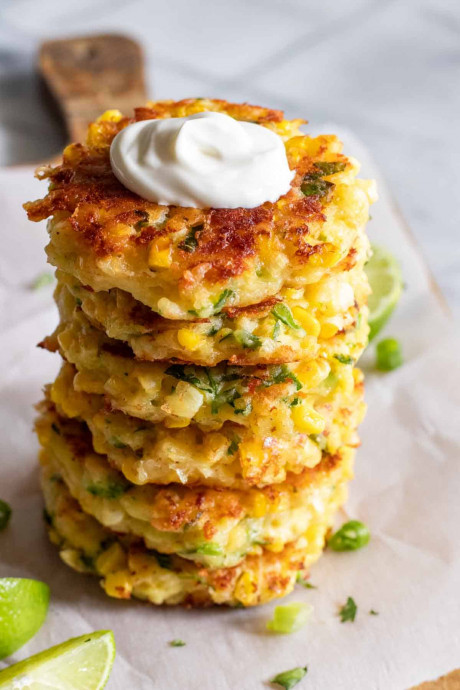 These easy to make Cheesy Corn Fritters are loaded up with jalapeno, onion, cilantro, plenty of cheese and a seasoning blend. All cooked together to get a perfect golden crust. This easy vegetable side dish recipe is ready in less than 30 minutes and can also double as a light meal!
Fritters are small fried cakes, corn fritters are of course, made of corn! The corn and chopped vegetables are held together by a thick batter. They are fried in a small amount of oil, this makes the exterior crispy and the inside is soft, loaded with melty cheese, and fresh bits of juicy corn.
These particular corn fritters are loaded up with chopped jalapeno, green onion, and cilantro. Plus there's a healthy portion of cheese.
Ingredients:
3 cups corn kernels, fresh is best. Can use frozen or canned also
¼ cup cilantro, chopped
¼ cup green onion, chopped
1 jalapeno , deseeded, membranes removed, diced
juice from 1/2 a lime, 1 tablespoon
1 cup all purpose flour
1 tsp baking powder
½ tsp salt
¼ tsp ground black pepper
¼ tsp chili powder
2 large eggs , beaten
¼ cup milk
1½ cup Monterey Jack Cheese, shredded
2 tbsp extra virgin olive oil