Perfect Potato Latkes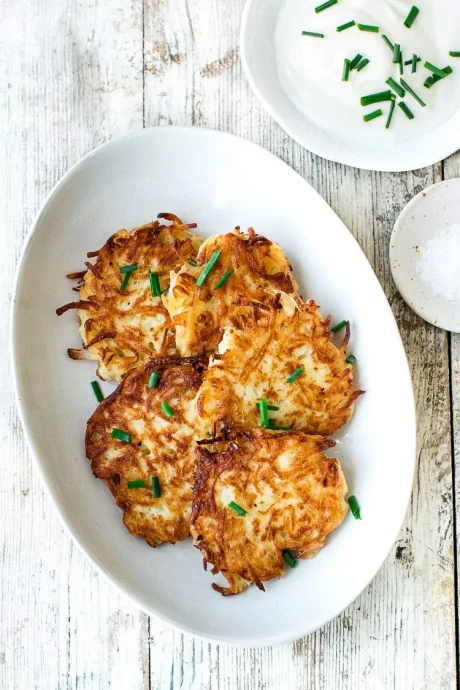 Crispy potato latkes are the Hanukkah star this week. Here's everything you need to know on how to make them.
I shred the potatoes (and onions) using a food processor, but if you don't have one, you can use the largest holes of a box grater.
After grating the potatoes, you'll need to squeeze the excess liquid out of them. I do this by placing the potatoes and onions in a colander set in a bowl and press it down with the back of a spoon. You don't need that extra liquid, so just discard it. Another thing you can do is to spread the potatoes and onions on a kitchen towel and twist the towel to wring out the liquid.
Traditional recipes don't use baking powder, and I don't use it as well. The latkes aren't light, but they are perfect that way.
So after the long lecture, you can now go and make some delicious latkes!
Ingredients:
5 medium or 4 large (2 pounds) starchy or all-purpose potatoes (like Yukon Gold, Russet, Desiree), peeled and cut lengthwise into halves
2 small yellow onions , peeled and cut into halves
2 eggs
4 tablespoons all-purpose flour
1 and 1/4 teaspoons fine salt
1/4 teaspoon freshly ground black pepper
Canola or other flavorful oil , for frying