Creamy Gnocchi Soup with Rosemary Bacon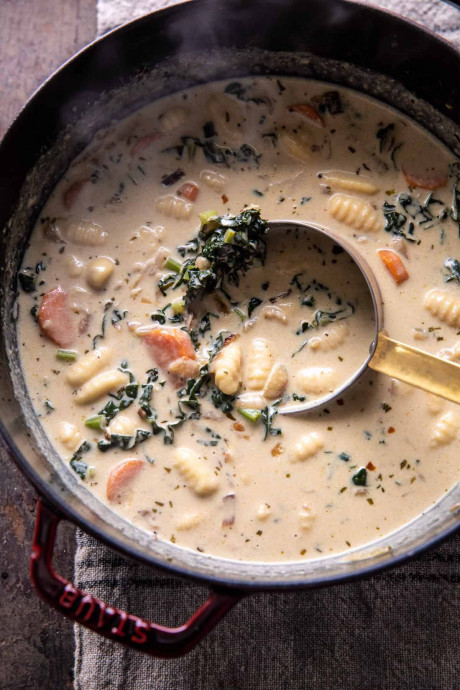 This super simple Creamy Gnocchi Soup with Rosemary Bacon is the perfect cozy bowl for nights when you're craving Italian, but want something warming. A mix of vegetables, simmered with Italian seasonings, kale, and potato gnocchi. Finish each bowl off with crispy rosemary bacon and serve with crusty bread. It's hearty, full of greens, and so delicious.
Great for just about any night of the week. And the added bonus? You can make this soup on the stove, in the slow cooker, or even in the instant pot!
You'll want to start with that bacon. Crisp it up, then toss in a handful of freshly chopped rosemary. Once the rosemary hits the bacon grease, it begins to fry up and become crisp. It's delicious with the salty bacon and adds an unexpected special touch to each bowl.
Of course, if you don't eat meat, you can easily omit the bacon to make this a vegetarian soup. Just add the rosemary to a skillet with some oil.
Ingredients:
4 slices thick cut bacon, chopped
1 tablespoon fresh chopped rosemary
2 tablespoons extra virgin olive oil
1 yellow onion, chopped
6 carrots, chopped
4 celery stalks, chopped
2-4 cloves garlic, minced or grated
2 tablespoons fresh thyme leaves (or 2 teaspoons dried)
1 tablespoon dried basil (or 1 teaspoon dried)
1-2 teaspoons fennel seeds use to your taste
1 pinch crushed red pepper flakes
kosher salt and black pepper
2 tablespoons salted butter
2 tablespoons all-purpose flour
4-6 cups low sodium vegetable broth
4-6 cups roughly chopped kale
1 1/2 cups canned coconut milk, heavy cream, or whole milk
1/2 cup grated parmesan or asiago cheese, plus more for serving
1 pound fresh potato gnocchi