Molten Chocolate Crackle Pie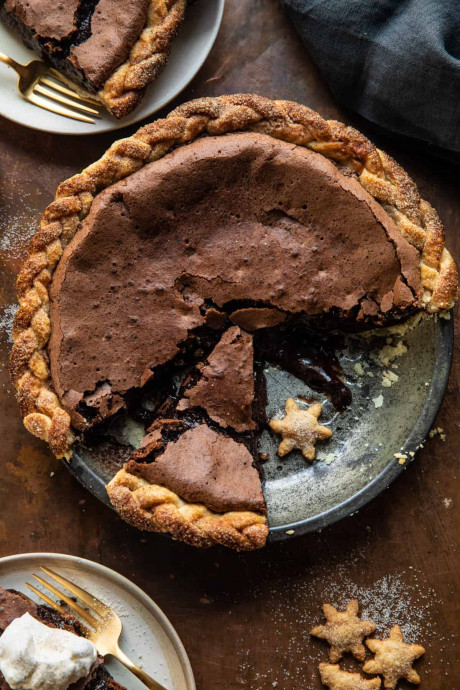 While the pie is truly delicious and beautiful with that crackled top, it's actually the simplest to make.
Start with the crust. I did make my own crust, and while I will tell you it's better than store-bought, I will also tell you that if you don't want to make the crust, you shouldn't make the crust! Pies can be stressful, I get it. If the crust is stressing you out pick up your favorite from the store. I hear Trader Joe's and Whole Foods have great options!
Once you have your crust sorted out, sprinkle it with vanilla sugar (simply just sugar mixed with vanilla beans), then pre-bake it. You want to get the crust cooked before adding the filling to ensure your crust stays crisp and flaky instead of just soggy.
Ingredients:
1 pie crust round (homemade recipe below)
1 egg, beaten, for brushing
vanilla sugar or coarse sugar, for sprinkling (optional)
4 large eggs
1 1/2 cups granulated sugar
1/2 cup unsweetened cocoa powder
2 teaspoons instant coffee granules
1/2 teaspoon kosher salt
10 tablespoons salted butter, melted
1 tablespoon hazelnut liquor (optional)
2 teaspoons vanilla extract
1/2 cup semi-sweet chocolate chips or chunks
Hazelnut Whipped Cream
1 cup heavy cream
1 tablespoon real maple syrup
2 teaspoons vanilla extract
1 tablespoon hazelnut liquor (optional)