Chickpeas, Cauliflower, Curry Vinaigrette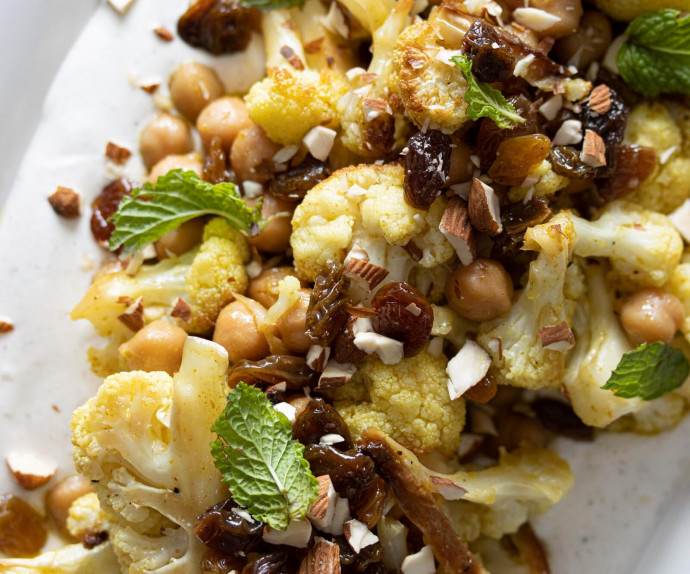 A rich, healthy, and delicious dish that will work well by itself, or alongside Halibut in Soy, Honey, Ginger marinate, Chicken Spatchcocked, or Pan Fried Lamb Chops with Garlic Cream and Porcini Mushrooms. The possibilities are endless. Great to bring to your summer picnic BBQ.
I used canned chickpeas however, you can use dried and soak them for 6 hours or overnight in the refrigerator. Uncovered bring to a boil over medium-high heat, reduce the heat and simmer, stirring occasionally until the beans are tender, around 2 hours. Proceed with the recipe for all the other steps.
The yogurt binds every flavor as well as enhances them giving the vegetables a great flavor. Of course, you can also substitute the chickpeas with the fava beans or cannellini.
Ingredients:
FOR THE BEANS
1 8-ounces can chickpeas
1 ½ teaspoon sea salt
FOR THE SPICED YOGURT
1 cup nonfat Greek yogurt
½ cup sour cream
1 teaspoon ground coriander
½ teaspoon ground cumin
salt and pepper
FOR THE DRESSING
2 tablespoons lemon juice
1 ½ tablespoon honey
⅓ cup golden raisin
1 teaspoon curry powder
salt
¼ cup olive oil
FOR THE SALAD
1 small head of cauliflower trimmed and cut into bite-size pieces
2 tablespoons olive oil
¼ cup chopped almonds
½ cup fresh mint leaves
salt and pepper to taste