Easy Cheesy Scalloped Potatoes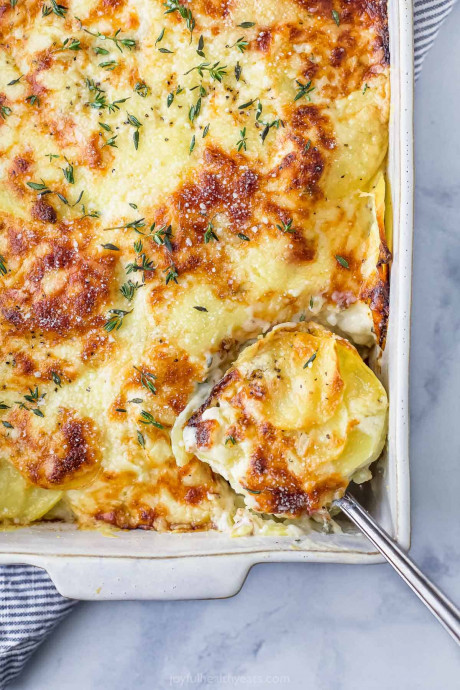 Easy Cheesy Scalloped Potatoes – thinly sliced potatoes layered with a garlicky cheese sauce and more cheese for the most epic side dish! Perfect for the holidays or a fancy date night.
Whether it's a special occasion or a random weekday, this cheesy potato casserole is always a great item to have on your dinner menu. It's substantial enough to be served as a main dish, and it works great as a side if you're serving a crowd. The potatoes are perfectly tender while the cheese on top is melty and crispy.
In addition to all that yumminess, the creamy milk sauce is seasoned with fresh thyme and garlic, infusing the potatoes with tons of mouthwatering flavor. And get this – these scalloped potatoes are completely guilt-free. They're made with half of the ingredients as your average recipe, yet they still taste just as good.
You know what, scratch that. I'm confident that these taste even better! The shining star of this recipe is the aged white cheddar cheese. It really permeates throughout the whole casserole and makes it extra cheesy.
Ingredients:
3 lbs. of yukon gold potatoes, peeled and thinly sliced to 1/8″ thick pieces (I used a madoline)
1 1/2 cup 2% milk
2 tablespoon unsalted butter
2 tablespoons flour
3 garlic clove, minced
1 tablespoon fresh thyme
1 1/2 cup shredded aged white cheddar cheese
1/2 cup grated parmesan cheese
pinch of nutmeg
salt & pepper