Pizza Chicken – One Pan, 5 Ingredients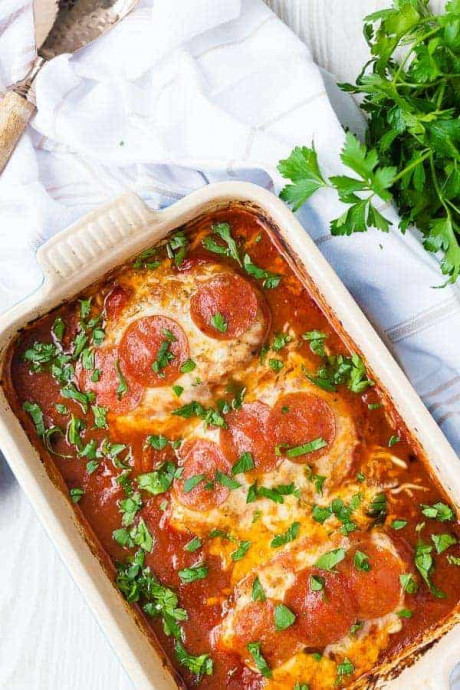 This easy five ingredient, one-pan pizza chicken is a weeknight lifesaver. It's a crowd-pleaser of a dinner! I know pizza and healthy eating aren't exactly synonymous but I've never been one to follow the trends. Well, sometimes I follow trends but I'm usually at least six months behind the curve.
I do, however, believe in balance and today that balance appears in the form of dressing up a chicken breast and making it taste like pizza. It's a really simple hot dish that takes about five minutes to prep. It requires about an hour in the oven but that's all hands-off time. See why I like it?
The sauce that the chicken bakes in is a mixture of pizza sauce and diced tomatoes. You'll mix those together right in the baking dish, add the chicken and bake. Right before it's finished, the cheese and pepperoni go on.
The sauce keeps the chicken juicy and flavorful. The cheese and pepperoni make this hot dish feel like a serious treat, but in reality it's still pretty balanced, healthy eating.
Ingredients:
1 can (14.5 oz.) diced tomatoes
1 jar (14 oz.) pizza sauce
1 1/2 – 2 pounds boneless skinless chicken breasts
1/4 teaspoon salt
1/2 teaspoon pepper
3 tablespoons shredded mozzarella cheese, or more to taste
9-12 slices pepperoni
Fresh basil or parsley for garnish, optional