Chocolate Cream Pie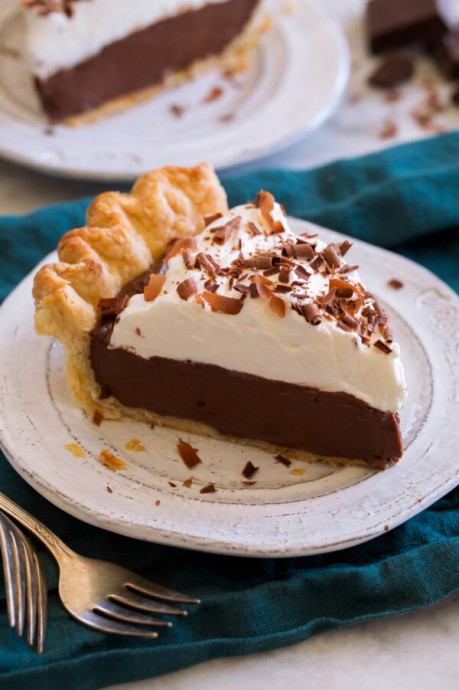 A rich and luscious Chocolate Cream Pie recipe! It's made with a tender, flaky blind baked pie crust, a thick and perfectly chocolatey custard pudding filling, then it's mounded high with billowy whipped cream and garnished with thin and curly chocolate shavings. It's supremely delicious and destined to be a highlight of any dinner or celebration!
This is one of the dreamiest pies with its trio of layering, its silky smooth texture, and its abundant decadence of chocolate flavor. You'll find it's even a step up from the traditional old classic since chopped chocolate is included as well rather than just cocoa powder. It tastes just like chocolate pudding but in pie form!
Sure during the holidays we all love our fruity pies but some sort of chocolate pie is always a welcome change and definitely deserves a place in the line up. Chocolate lovers will thank you. It will be savored down to the last creamy topped crumb and may likely become a repeatedly requested tradition each holiday season!
There are a few steps to it, especially if you prepare the homemade pie crust but it's worth every bit of effort and overall it is a straightforward easy method to follow. A critical step is just that you ensure the filling is thickened well over the stovetop so you're pie will be firm enough to hold up when sliced.
If you find you are short on time to make this completely from scratch pie you could try my easy chocolate mousse pie instead (then save this recipe for when time allows). It's super fluffy and equally as tempting!
Ingredients:
1 fully blind baked pie crust, recipe here (you'll need butter, flour, sugar, salt and ice water for it)
4 oz. bittersweet chocolate (60 to 65 percent), chopped
3 Tbsp unsalted butter, cut into 1 Tbsp pieces
2 tsp vanilla extract
2/3 cup granulated sugar, plus 2 1/2 tbsp
1/4 cup Dutch process cocoa powder (scoop and level to measure)
1/4 cup cornstarch (scoop and level to measure)
1/4 tsp salt
3 large egg yolks
3 cups whole milk, divided
1 1/4 cups heavy cream
1/4 tsp vanilla extract