Savory, Satisfying, Creamy Mushroom Soup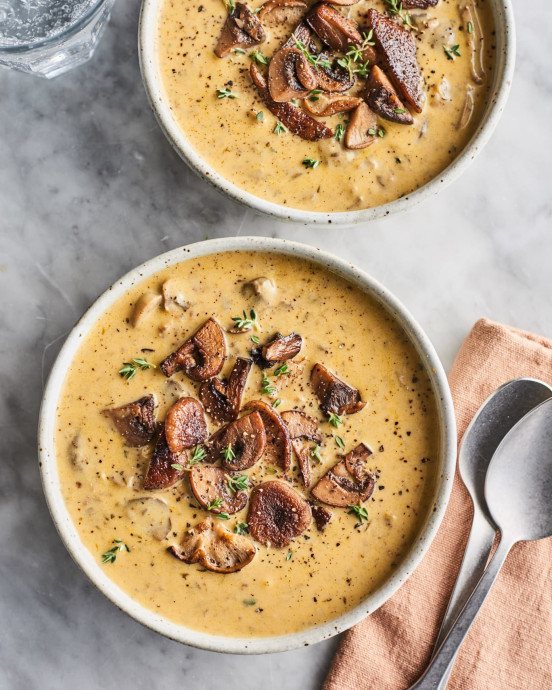 There's cream of mushroom soup that's rich and decadent, with a clear emphasis on the cream. And then there's this version, with an intensely savory, earthy aroma that is sure to make mushroom lovers squeal with delight. This soup treats you to a silky, mushroom-infused vegetable broth that gets partially pureed and kissed with a touch of cream for just a hint of richness. Plus, there's buttery browned cremini mushrooms in each and every bite.
For a flavorful, umami-rich broth that really lets mushrooms shine, start with a packet of dried porcini mushrooms. First, you'll soak the dried mushrooms in a bowl of boiling water, which rehydrates and softens them and also transforms the water into a deep, earthy broth, which will eventually get stirred into the simmering vegetable broth.
Dried mushrooms can contain some dirt and grit, so when straining the mushroom broth, I recommend lining your strainer with cheesecloth to help remove any unwanted debris.
Ingredients:
1 ounce dried porcini mushrooms
1 1/2 cups boiling water
1 medium yellow onion
2 cloves garlic
4 tablespoons unsalted butter
1 pound sliced cremini mushrooms
1 1/2 teaspoons kosher salt
1/4 teaspoon freshly ground black pepper
3 tablespons all-purpose flour
4 cups low-sodium vegetable or chicken broth (32 ounces)
2 tablespoons soy sauce
2 teaspoons dried thyme
2 bay leaves
1/2 cup heavy cream