White Bean and Sausage Soup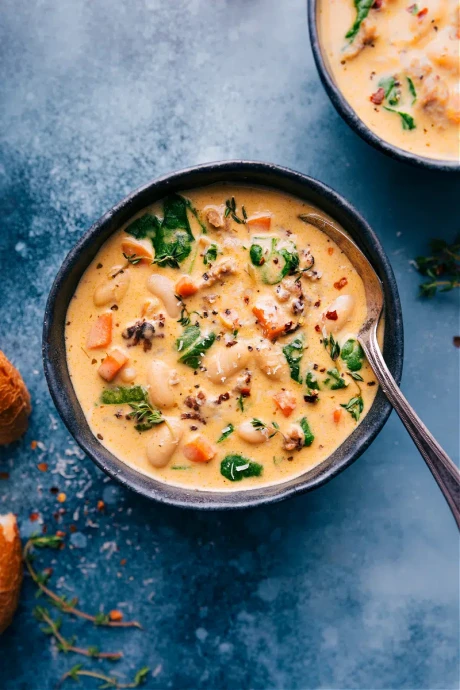 Top your bowl with a generous sprinkle of Parmesan cheese and dip in some crusty buttered bread for the ultimate comfort food!
This Sausage Tortellini Soup and this White Bean Soup are two of my personal favorite recipes and luckily, the entire family loves both. So naturally, a mashup was in order! This white bean and sausage soup is total comfort food.
While there is some dairy in this soup that helps to thicken it, we also thicken it by blending up some of the beans. This yields an even thicker and heartier soup, but in a more nutritious way — score!
Ingredients:
1 tablespoon olive oil
1 lb. (16 oz.) Italian sausage
2 tablespoons unsalted butter
1 cup (135g) diced yellow onion
1 cup diced carrots
1 tablespoon minced garlic (~3-4 cloves)
Fine sea salt & pepper
1-1/2 teaspoon Italian seasoning
1/2 teaspoon paprika
2 tablespoons white flour
4 cups chicken stock (we love Swanson)
1 (15 oz.) cans cannellini beans, drained & rinsed
2 bay leaves
3 cups (78g) fresh baby spinach, coarsely chopped
1 cup heavy cream
3/4 cup whole milk
For serving: fresh thyme or parsley, crusty bread for dunking, freshly grated Parmesan cheese, red pepper flakes