Curried Lentils, Tomato And Coconut Soup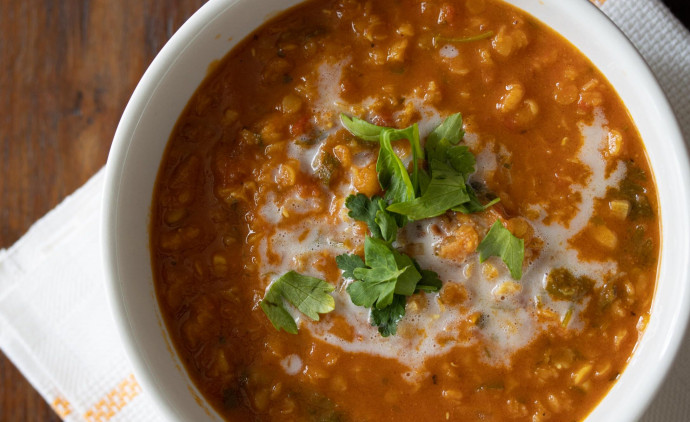 Experimenting with new flavors, mainly curry, which I am sure by now you may have noticed I am not using much of it. And since we may not be able to travel this summer to faraway places, therefore I will bring the faraway places into my kitchen and play with the flavors.
Curry, lentils, coconut milk marry well in this soup. Not to mention so easy to make. Going a bit vegetarian tonight, but no one seems to mind. Comfort food, this lentil soup will satisfy your cravings for comfort.
Lentils are rich in iron, folate, dietary fiber, and are a great source of protein. Low in calories which, with summer just around the corner, I could use a bit less of calory intake.
Ingredients:
2 tablespoons vegetable oil
1 cup yellow onion, finely chopped
1 tablespoon curry
2 large garlic cloves crushed
¼ cup ginger, peeled and finely chopped
¾ cup red lentils
2 cups crushed tomatoes
1 cup chopped parsley + ¼ cup of roughly chopped to garnish
1 teaspoon. salt
2 ½ cups water
13.5 ounces can coconut milk