Lemon, Rosemary and Olive Oil Shortbread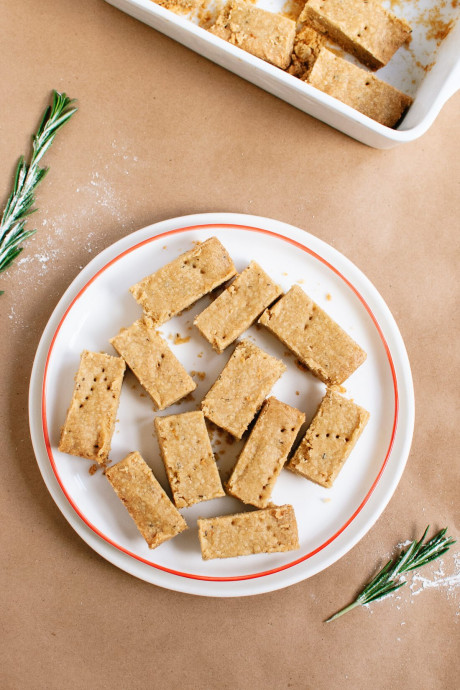 Light and crisp, sweet and savory shortbread made with olive oil instead of butter.Oat flour sounded like a good idea to me at first, since I could then share the cookies with my gluten-free friends. My oat flour and olive oil shortbread was a mess of crumbs, though.
Four batches of shortbread later, I have finalized my own shortbread recipe. I think Mimi would approve. I ended up using white whole wheat flour, which holds together a little better than the oat flour and is more manageable than whole wheat pastry flour. I added sea salt to enhance the complex flavors found in the olive oil. I also had the best luck with baking the shortbread in a square baker; no matter how long I chilled the dough, it was still difficult to shape into rounds. The method written below yielded the best texture and flavor. Be sure to follow the instructions about cooling the shortbread a little before slicing or it will crumble on you.
Ingredients:
3 cups white whole wheat flour
1 ¼ cups powdered sugar (yields sweet shortbread, scale back to 1 cup or just ¾ cup for less sweet/more savory cookies)
1 teaspoon fine grain sea salt salt
1 tablespoon chopped fresh rosemary
Zest of 2 lemons (preferably organic)
1 cup California Olive Ranch Everyday Extra Virgin Olive Oil