Bacon Jam and Guacamole Quesadilla topped with a Fried Egg and Bacon Jam Vinaigrette Drizzle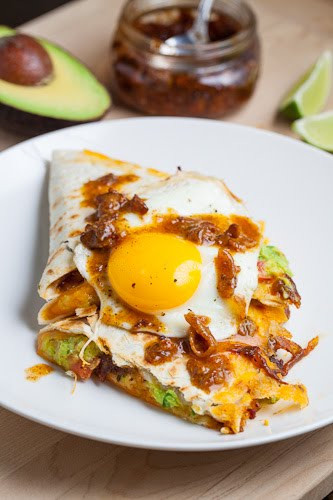 A cheesy quesadilla filled with sweet, salty, smoky, and spicy bacon jam and cool and creamy guacamole served topped with a fried egg and bacon jam vinaigrette.
Thoughts of bacon jam have been haunting me ever since my first batch ran out a couple of weeks ago. Unfortunately it ran out long before I had finished using it in all of the things that I wanted to and I figured that that was the perfect excuse to make another batch! The next thing on my list to try were these quesadillas with bacon jam, guacamole and plenty of melted cheese. Despite the fact that the bacon jam is extremely versatile and can be used in a lot of different ways I seem to keep thinking of it in terms of breakfasts and it seemed only natural to top the quesadillas with a fried egg and have them for breakfast! I was thinking that the fried egg might be a little lonely sitting there on top of the quesadilla all by itself so I jazzed it up a bit with a drizzle of a bacon jam vinaigrette.
Ingredients:
3 tablespoons bacon jam
2 tablespoons oil
2 tablespoons cider vinegar
1 teaspoon mustard
salt and pepper to taste