Turkey Cobb Salad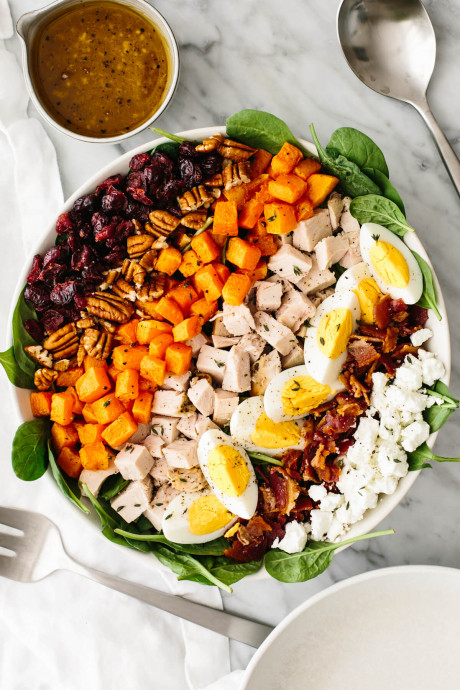 Turkey cobb salad is a tasty seasonal spin on the classic cobb salad, featuring roasted turkey, butternut squash, and dried cranberries. It's a hearty, dinner-worthy salad and makes the most of your Thanksgiving leftovers! A cobb salad is the ultimate chopped salad (and one of my personal favorites) with all of the ingredients diced into bite-sized pieces. They're typically protein-heavy salads as they're filled with meat, eggs, and cheese, along with a variety of vegetables, nuts, and fresh or dried fruit. In other words, they're filling, flavorful, and have a lot of texture.
So what better way to make a cobb salad than with your turkey recipe leftovers! With the meat already cooked it makes this recipe a breeze. All you have to do is dice it up, prep a few other things, and pile them all on a bed of fresh leafy greens.
But if you don't have these exact ingredients – no problem. The beauty of a cobb salad is how versatile it is. Just layer on more roasted veggies or other sources of protein to keep it balanced. Keep reading for more variations!
Ingredients:
6 cups baby spinach, or other salad greens
4 strips cooked bacon, crumbled
1 cup cooked turkey breast, cubed
1 cup roasted butternut squash, cubed
2 hard boiled eggs, quartered
1/4 cup crumbled goat cheese
2 tablespoons cranberries
2 tablespoons pecans, roughly chopped
APPLE CIDER VINAIGRETTE
3 tablespoons olive oil
2 tablespoons apple cider vinegar
1/2 tablespoon honey
1/4 teaspoon Dijon mustard
1 small clove garlic, mined
salt and pepper, to taste