Turkey and Wild Rice Soup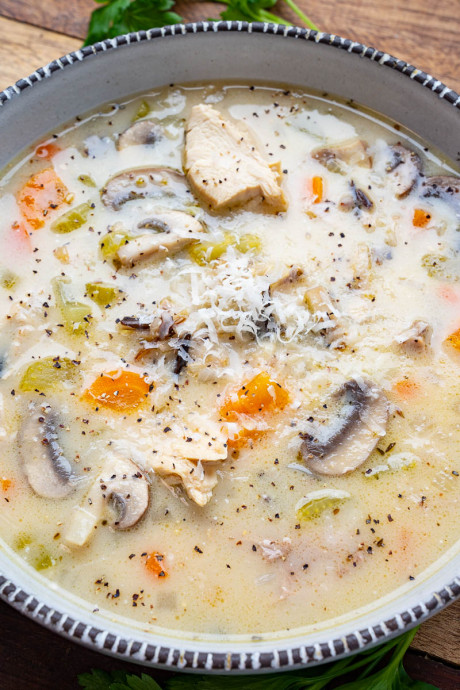 A hearty and tasty turkey soup with mushrooms, wild rice and cream! The perfect cool weather comfort food!
I only make turkey stock a few times a year and it is always a treat, especially when I use it in this turkey and wild rice soup! This is a pretty simple soup, very similar to a chicken noodle soup, except that it uses turkey and wild rice. It starts out with the classic vegetables: onion, carrot and celery in addition to the turkey, stock and wild rice. The soup is thickened with a roux of butter and flour and seasoned with rosemary and thyme, in addition to poultry seasoning. I feel that mushrooms are perfect with turkey and wild rice and so I add them, along with cream and a hit of parmesan cheese to finish things off! This turkey and wild rice soup is an amazing way to enjoy some fresh homemade turkey stock, and it's warm, hearty, winter comfort food in a bowl!
Ingredients:
4 tablespoons butter
1 cup onion, diced
1 cup carrots, diced
1 cup celery, diced
8 ounces mushrooms, sliced
3 cloves garlic, chopped
1 teaspoon thyme, chopped (or 1/2 teaspoon dried)
1 teaspoon rosemary, chopped (or 1/2 teaspoon dried)
4 tablespoons flour (optional, gluten-free for gluten-free)
6 cups turkey stock
2 cups cooked turkey, cut into small pieces
1 cup wild rice *
1 teaspoon poultry seasoning (or Italian seasoning)
1/4 cup parmigiano reggiano (parmesan cheese)
1/2 cup heavy cream (optional)
salt and pepper to taste
2 tablespoons parsley, chopped (optional)