Apple Cider Sage Pork Chops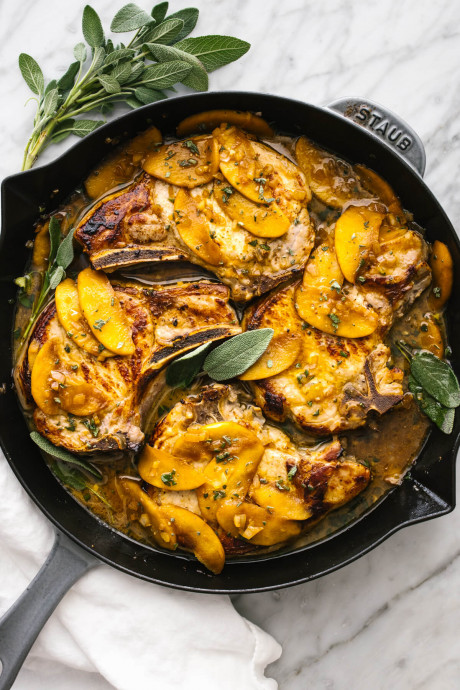 Perfect pork chops brined in apple cider and cooked with fresh apples and sage. They look impressive, but between you and me, they're super easy to make! All you need is a cast iron skillet and a my insider tips for juicy, crusty browned, no-fail pork chops.
Let's scrap the idea that restaurant-worthy, pan fried pork chops are unattainable at home. It's quite the opposite! The secret here relies on a few techniques – brining, searing time, temperature testing, and a beautifully browned butter base.
But before we get started, let me just say that this apple cider, sage version hits the sweet spot for an impressive (and relatively inexpensive) fall dinner idea. The pork chops are brined in an apple cider solution, seared until golden in browned butter, then cooked with fresh apples and sage. Oh yeah – so good.
It's a nice break from the typical chicken or steak, and honestly gives pork chops the spotlight they deserve on a weeknight dinner or holiday table! So grab your best cast iron skillet and I'll show you how to cook pork chops to perfection.
Ingredients:
FOR THE BRINE
2 cups water
¼ cup kosher salt
4 garlic cloves, smashed and peeled
4 fresh sage leaves
1 tablespoon black peppercorns
2 cups apple cider juice
FOR THE PORK CHOPS
3 tablespoons unsalted butter
1 tablespoon extra-virgin olive oil or avocado oil
4 bone-in pork chops
2 apples (I prefer honeycrisp or gala apples), peeled, cored and thinly sliced
1 tablespoon coconut sugar
1 shallot, finely diced
1 teaspoon finely chopped sage leaves
1 cup apple cider juice
2 teaspoons Dijon mustard