Five Cheese Garlic Spaghetti Squash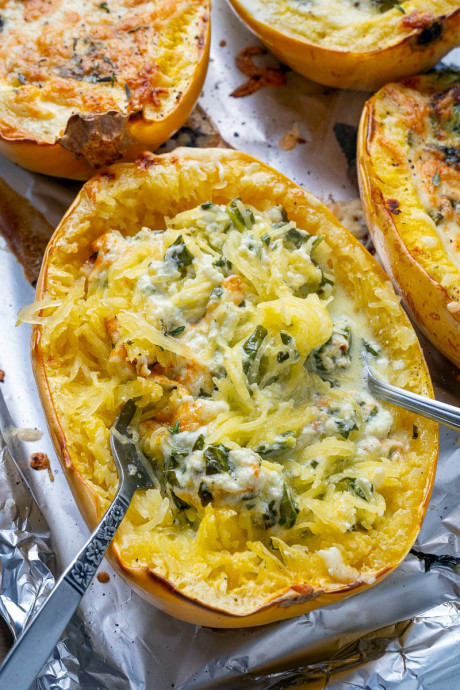 Spaghetti squash filled with 5 kinds of cheese, cream, spinach and plenty of garlic!
Spaghetti squash is a super fun fall food! Before it's cooked the inside of the squash looks like other winter squash in that there are seeds on the inside and the flesh is solid but after cooking the flesh gets soft and turns string-y, like spaghetti noodles! I like to take small-medium spaghetti squash, scoop out the seeds, fill them with some tasty ingredients (like cheese) and bake them until the squash is tender and the filling is cooked. This spaghetti squash recipe fills the squash with no less than 5 cheeses including mozzarella, parmesan, fontina, provolone and ricotta and that's not including the cream! The other main ingredient is garlic and the dish has a heavenly aroma while it bakes! I like to either scoop out all of the spaghetti squash and mix it up to serve as a side dish or it also makes for a great light meal that can be served in the shell, as a bowl, as they are perfect for individual servings!
This dish is really like a cheese-y spaghetti squash alfredo and like alfredo you can add other ingredients such as spinach, artichokes, bacon, mushrooms, sundried tomatoes, roasted red peppers, etc.
Ingredients:
1 cup mozzarella cheese, shredded
1 cup fontina cheese, shredded
1 cup provolone cheese, shredded
1/4 cup parmigiano reggiano (parmesan cheese), grated
1 cup ricotta cheese
1 cup heavy/whipping cream
4 cups fresh spinach, chopped
4 cloves garlic, chopped
1 teaspoon thyme, chopped (or 1/2 teaspoon dried thyme)
salt and pepper to taste
2 medium spaghetti squash, halved and seeds removed