Greek sheet pan chicken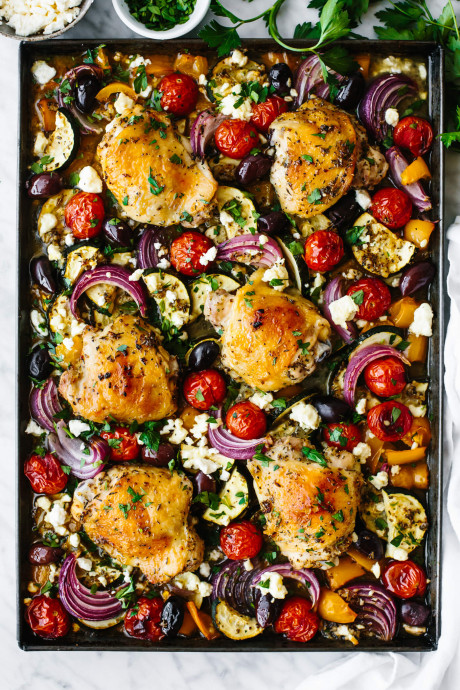 Greek sheet pan chicken is an all-in-one meal with succulent chicken thighs nestled around vibrant, caramelized vegetables. Just give it a pop in the oven and you've got one heck of a dinner ready to serve!
Let me just start by saying this is one of my all-time favorite sheet pan recipes. It's the ultimate combination of vibrant summer vegetables and juicy, golden chicken thighs. But the best part is that everything is doused in the best Greek flavors. And I'm talking oregano, thyme, garlic, zesty lemon, and of course, pops of olives and feta cheese.
It's snappy to make and the clean-up is minimal, which makes it an ideal weeknight dinner idea. Trust me, when you've got a chicken recipe as easy and flavorful as this, it's sure to become a part of your regular dinner rotation!
Ingredients:
½ cup olive oil
1 lemon, juiced (about 3 tablespoons)
4 garlic cloves, minced
2 teaspoon dried oregano
1 teaspoon dried thyme
1 teaspoon Dijon mustard
1 teaspoon kosher salt
½ teaspoon freshly ground black pepper
6 chicken thighs, bone-in, skin-on
1 medium zucchini, halved lengthwise and sliced
1 yellow bell pepper, chopped into 1-inch pieces
½ large red onion, thinly sliced into wedges
1 pint cherry or grape tomatoes
½ cup kalamata olives, pitted
¼ cup feta cheese
2 tablespoons finely chopped fresh parsley