Melitzanosalata (Greek Eggplant Dip)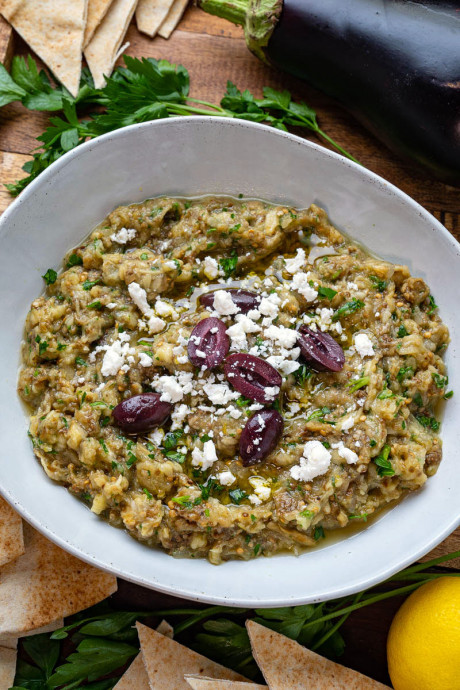 A simple and tasty roasted eggplant dip with pungent onion and garlic, bright lemon and parsley and mellow extra virgin olive oil for creaminess!
Eggplant is a fun vegetable and one of my favourite ways of enjoying it is in a dip. Eggplant based dips are so easy to make, you simply roast eggplant until it's tender inside, mash or puree it and mix in your desired extra flavours. I particularly enjoy Greek style eggplant dip/salad (aka melitzanosalata) which adds a bit of onion and garlic for pungency, lemon juice and fresh chopped parsley for brightness along with extra virgin olive oil for some amazing creaminess. I like to serve this dip with toasted whole wheat pita wedges or vegetables and it makes for a fantastic light, healthy and tasty snack or even a light meal!
Tip: I like to use medium sized eggplant as teh larger ones can sometimes be a little on the bitter side.
Ingredients:
2 medium eggplants (~2-3 pounds)
2 tablespoons onion, grated
1 clove garlic, grated
1 tablespoon lemon juice
1 tablespoon parsley, chopped
extra virgin olive oil to taste
salt and pepper to taste