Baked Salmon with Honey Mustard and Pecan-Panko Crust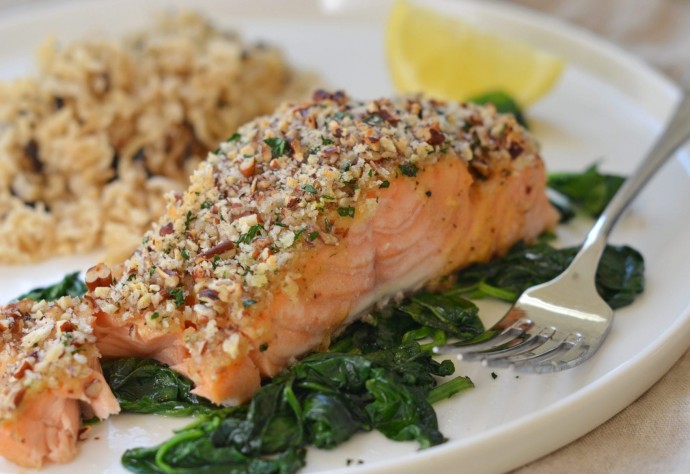 This baked salmon dish takes a total of 20 minutes – 10 minutes to prepare and 10 minutes to cook – yet tastes like something you'd order at a fancy restaurant.
It's perfect for when you have company coming at the end of a long day (and you're asking yourself, "What was I thinking?") or on a busy weeknight when you have to hit the kitchen running. Feel free to substitute another type of fish like cod, trout or striped bass, although salmon offsets the pecan panko crust and tangy glaze beautifully.
To parents of picky eaters: if your kids are lukewarm on fish, I find that a crunchy coating is the best way to entice them, and you can omit the nuts if need be. This baked salmon with a crunchy topping takes just 20 minutes to make, yet it's elegant enough for company.
Ingredients:
2 tablespoons Dijon mustard
2 tablespoons unsalted butter, melted
1 tablespoon honey
3/4 teaspoon salt, divided
1/4 teaspoon freshly ground black pepper
1/4 cup panko
1/4 cup finely chopped pecans
2 teaspoons finely chopped parsley (optional, for color)
4 (6-oz) salmon fillets
1 lemon, for serving (optional)