Bacon and Goat Cheese stuffed mini peppers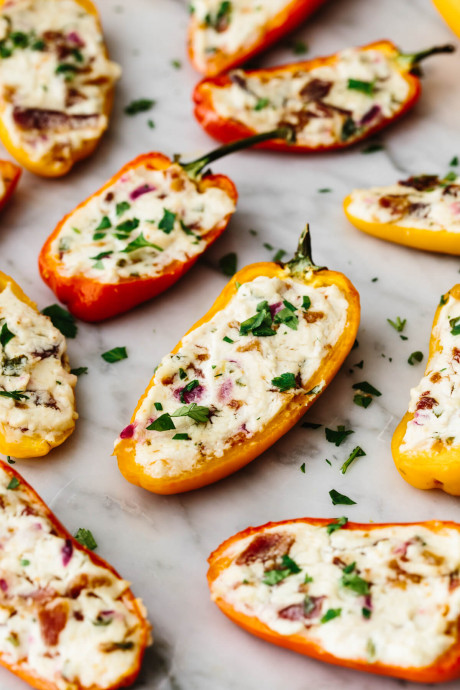 These bacon and goat cheese stuffed mini peppers are a delicious finger-food appetizer. They're creamy, savory, and look extra colorful on a serving platter (aka everyone will love them)!
You know those appetizers that seem to disappear in the blink of an eye? This is one of those! Sweet mini bell peppers are loaded with creamy goat cheese, and dotted with crispy bacon and bright red onions. They're beyond delicious, and trust me, it'll be hard to stop at just one, or two, or three.
So if you're looking to up your appetizer game, these stuffed mini peppers will guarantee a fun and tasty time. Think of this as my most loved stuffed peppers recipe turned to a sweet yet cheesy treat. And like most stuffed things, this recipe is incredibly easy to make. Just prep the filling ingredients, slice the peppers, stuff them, and bake away! The results are insanely delicious and look extra fancy when serving.
Ingredients:
12 mini bell peppers
6 slices bacon
8 ounces soft goat cheese
2 tablespoons finely chopped red onion
1 tablespoon chopped parsley
1 clove garlic, minced
salt and pepper, to taste