Cranberry Bliss Bars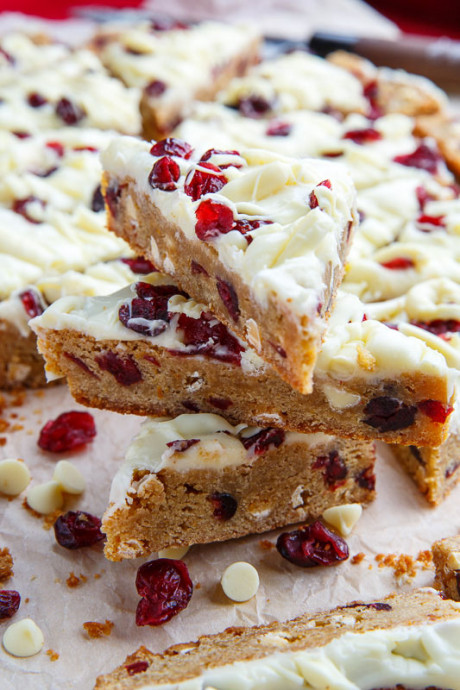 Cranberry bliss bars with soft and moist cranberry and white chocolate chip blondies topped with crew cheese frosting, white chocolate drizzle and cranberries!
The first recipe up for this holiday baking season are some cranberry bliss bars. These bars are inspire by the cranberry bliss bars from Starbucks and they are essentially a blondie bar recipe with dried cranberries and white chocolate chips topped with a cream cheese frosting, cranberries and a white chocolate drizzle. The "blondie" base is just a simple brownie recipe without the chocolate and these blondies are made with the usual suspects to which I add some orange zest and grated candied ginger along with the white chocolate chips and the dried cranberries. The frosting is a simple combination of cream cheese, powdered sugar and melted white chocolate and I like to add a hint of orange. Dried cranberries are sprinkled on before a final drizzle of white chocolate. These cranberry bliss bars are so nice and moist, chewy and tender and divinely and decadently delicious! They are to disappear quickly no matter where you serve them!
Ingredients:
For the cranberry white chocolate chip blondie bars:
1 cup (2 sticks) butter, softened
1 1/2 cups brown sugar, packed
2 eggs
1 teaspoon vanilla extract
2 teaspoons orange zest
2 tablespoons candied/crystallized ginger, minced/grated
2 cups all purpose flour
1 teaspoon baking powder
1/2 teaspoon salt
1 cup white chocolate chips
1 cup dried cranberries
For the cranberry white chocolate cream cheese topping:
8 ounces cream cheese, softened
2 cups powdered/confectioners sugar
1 tablespoon orange juice
1 cup white chocolate chips
1/3 cup dried cranberries