Chocolate Orange Cupcakes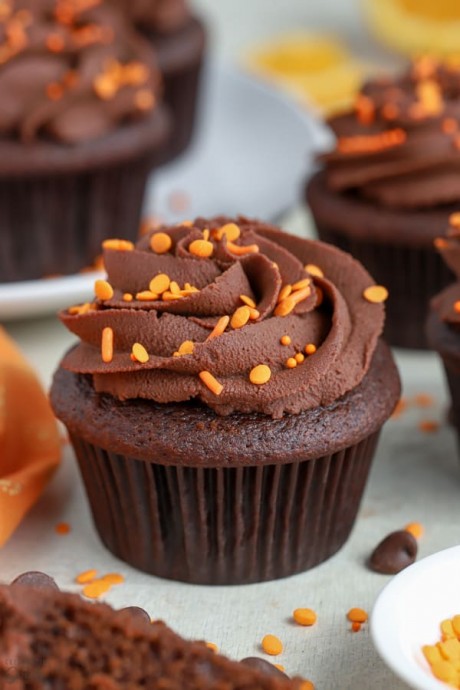 Fluffy and moist Chocolate Orange Cupcakes topped with a rich whipped chocolate ganache frosting. A combination of orange extract, orange zest and two kinds of chocolate make these cupcakes extra flavorful and delicious!
These cupcakes are fluffy and moist, but sturdy enough to stand up to a generous swirl of frosting. They include a combination of cocoa powder and melted chocolate chips for a deep chocolate flavor. Orange extract, orange zest and a touch of vanilla complement the chocolate flavor perfectly. With the deep, rich frosting and the flavor combo of orange and chocolate, I assume that this recipe will be better received by adults than kids.
Treat family and friends to these decadent cupcakes with chocolate orange-flavored sponge and chocolate ganache topping. Decorate with orange zest and chocolate!
Tip: Transfer the ganache to the refrigerator for 1-2 hours, until thickened.
Ingredients:
1 cup all-purpose flour
1/2 teaspoon baking soda
1/4 teaspoon salt
1/3 cup unsweetened cocoa powder
1/3 cup semisweet chocolate chips
1 teaspoon instant espresso powder
1/2 cup boiling water
1/2 cup sour cream
1/2 cup vegetable or canola oil
2 large eggs
3/4 cup granulated sugar
1 teaspoon orange extract
1/2 teaspoon pure vanilla extract
finely grated zest of one large orange
1 scant cup heavy cream
1 cup semisweet chocolate chips
1/4 teaspoon orange extract
sprinkles, optional garnish