Trader Joe's Cheesy Artichoke Rice Bake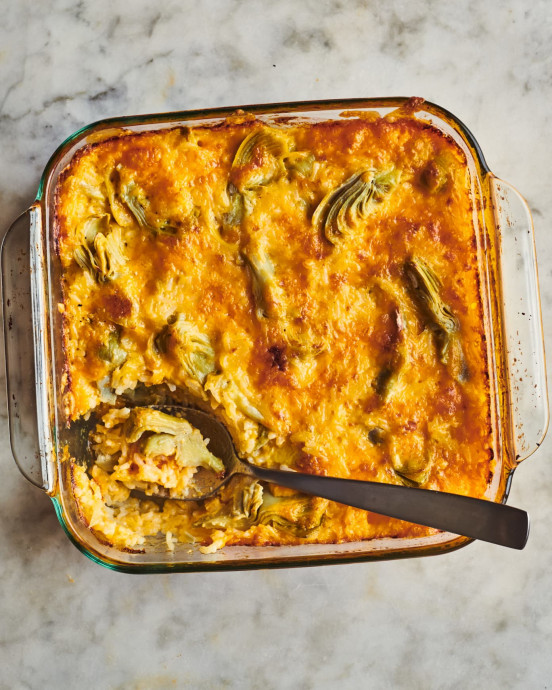 Perhaps unsurprisingly, my favorite casseroles involve a lot of cheese — and this cheesy rice bake, studded with tender artichoke hearts, fits the bill perfectly. To make it, simply grab the following four things the next time you're at Trader Joe's: frozen artichoke hearts, jasmine rice, a block of cheddar cheese, and some whole milk. Easy!
This hearty casserole is the perfect midweek meal — it's quick and comforting, and the whole family will love it. You'll start by cooking the artichokes and rice according to package directions, then bring the milk to a simmer and melt in the cheese. Mix everything together, pour into a casserole dish, and bake until brown and bubbling. If you're a fan of crunchy toppings, sprinkle on some buttery breadcrumbs before baking.
While I love this dish as a main (I often serve it with a crunchy green salad), it's also great as a side. Serve with any roasted fish or meat, or even stuffed into a roasted vegetable like a halved zucchini or a whole roasted bell pepper.
Ingredients:
1 cup uncooked Trader Joe's Jasmine Rice from Thailand
1 (12-ounce) bag frozen Trader Joe's Artichoke Hearts
3 tablespoons water
8 ounces Trader Joe's Mild Wisconsin Cheddar Cheese (or cheddar of your choice)
1 cup whole milk
1 teaspoon kosher salt, divided
1/4 teaspoon freshly ground black pepper