Almond Crusted Chicken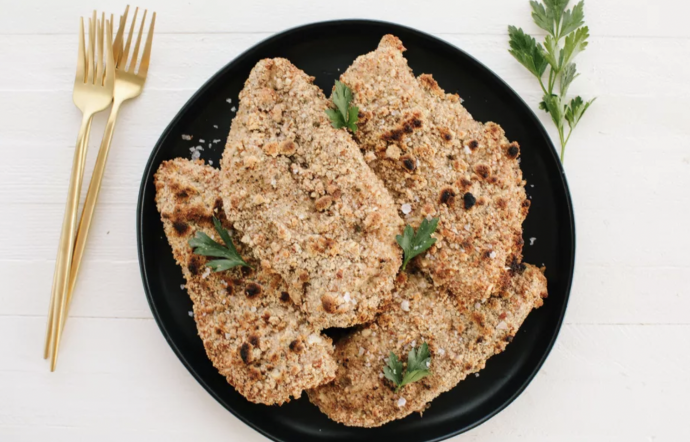 This almond-crusted chicken is a brand new take on the typical weeknight baked chicken. It may seem like an extra step, but making your own almond meal ensures you are able to achieve the texture you prefer. In this case, something between a typical almond meal and crushed almonds is what you want. This will give you enough texture to get a delicious crunch, but will not be so fine that the almond meal turns to mush on the chicken. Remember, a few chunky pieces is a good thing.
Try pairing this dish with mac and cheese and a green salad for a delicious dinner that will please the whole family or all your friends. Alternatively, you can use the chicken to top a fresh chopped kale salad and sprinkle some dried cranberries, feta, and sliced bell pepper. Add a slightly sweet and citrusy dressing to compliment the warm, hearty almond flavor of the chicken. As a kids snack you could slice the chicken thin and plate them with a variety of dipping sauces like honey mustard, blue cheese, tangy barbecue, or even marinara for a fun take on chicken parmesan.
Ingredients:
1 ½ pounds boneless skinless chicken cutlets
2 teaspoons kosher salt, divided
1 teaspoon black pepper, divided
1 1/2 cups raw almonds
1 teaspoon dried parsley
1 teaspoon dried oregano
1 large egg, whisked
1 tablespoon water