30-minutes recipe: Spicy Baked Fish Tacos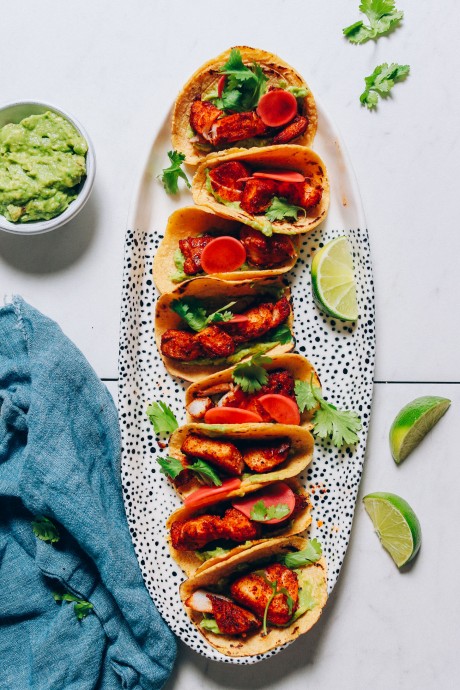 Flaky white fish is tossed in smoky spices and sea salt and roasted to perfection — no grilling required! Just 30 minutes and 10 ingredients to a fresh and flavorful dinner on the table.
Sometimes grilling is difficult with fish because it's so tender, so oven roasting became the quick-and-easy alternative! We like using white fish such as Alaskan cod, mahi-mahi, or halibut for making fish tacos. Cod tends to be the easiest to find and most affordable in our part of the world. These varieties have a mild flavor that pairs well with the smoky spices. We recommend wild-caught, sustainable options whenever possible. Add cornmeal to the fish before baking for a bit of crunch.
These tacos are tender, smoky, subtly spiced, versatile, satisfying, and slightly addictive! They're perfect for whenever you're craving a quick and fresh weeknight meal! The fish could also be cooked in advance and then the guacamole/tacos assembled when ready to eat. It is also dairy-free and gluten-free!
Ingredients:
1 lb wild-caught white fish, skin removed (such as cod, mahi-mahi, or halibut)
1 Tbsp oil (we prefer avocado)
1/2 – 3/4 tsp sea salt
1/4 tsp black pepper
1 ½ tsp cumin, plus more to coat
1 ½ tsp chili powder, plus more to coat
1 ¼ tsp smoked paprika, plus more to coat
1/4 tsp cayenne pepper (optional // omit for less heat)
3-4 Tbsp cornmeal (optional // for crispier texture)
10 corn tortillas (homemade or store-bought)
Rosemary Guacamole (or Garlicky Guacamole)
Lime wedges
Quick Pickled Veggies (optional // red onion or radish pair especially well)
Spicy Chipotle Aioli (optional)
Fresh cilantro (optional)