Slow Cooker Bacon Wrapped Apple BBQ Chicken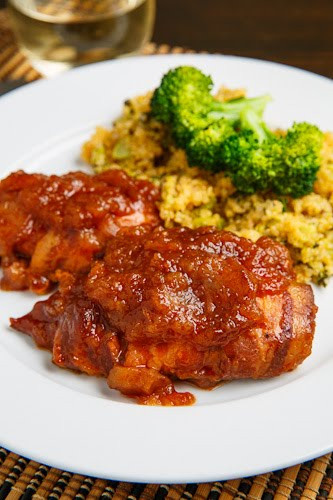 Bacon wrapped chicken breasts in a sweet and tangy apple BBQ sauce that is super easy to make and addictively good!
I have had a slow cooker for a few years now but I find that I hardly ever use it and when I do it is usually for things like pulled pork. I almost feel like I need to justify it taking up space when I have so little so I am always on the lookout for good slow cooker recipes to give it a workout. I recently came across a this tasty looking recipe for slow cooker bacon wrapped apple BBQ chicken on Chef in Training and with apples in season it seemed like the perfect chance to pull my slow cooker out! I mean you really cannot go wrong with BBQ chicken and if you then throw apples and bacon into the mix things can only get better! One thing that I do like about slow cooker recipes is that they are generally really easy, sometimes being as simple as throwing all of the ingredients into the slow cooker and turning it on and then you come home to a fully cooked one pot meal. This recipe is only requires you to dice some apples and wrap the chicken in bacon so it is easily doable even on a busy weekday morning and it is so worth the ten minutes of effort! The chicken comes out nice and moist and tender and the flavours of the bacon have melted into the chicken and BBQ creating one really tasty dish!
Ingredients:
2 small boneless skinless chicken breasts
4 slices bacon
1/2 cup BBQ sauce (homemade or store bought)
2 large apples, peeled and cut into small pieces
2 tablespoons lemon juice