Steak and Cheese Flatbread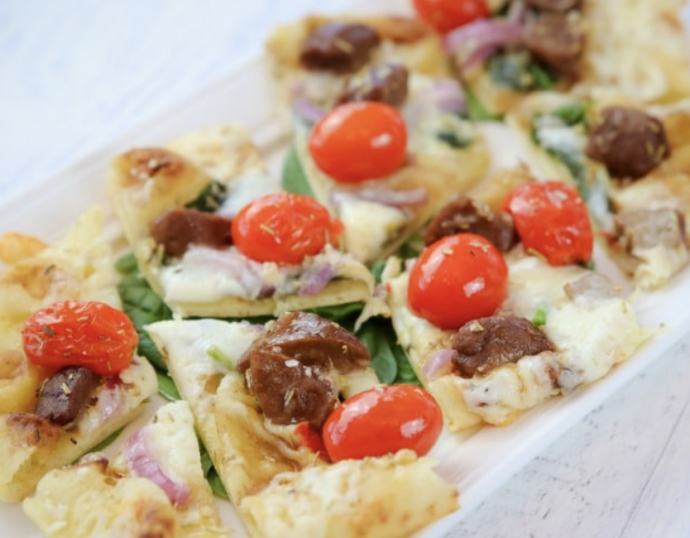 Steak and Cheese Flatbread perfect for appetizers or an easy dinner! Soft flatbread topped with steak bites, cheese, cherry tomatoes, red onion and fresh spinach. I like to serve as dinner with a nice side salad. Flatbread can be a fun twist on traditional pizza, or an open-face sandwich. Get creative and add your favorite toppings! Here, I did a "steak and cheese" version topped with tender steak bites, fresh tomatoes and spinach, red onion and garlic. I drizzled it with seasoned olive oil and added both Parmesan cheese and mozzarella. The result was so flavorful! Juicy steak paired with the fresh vegetables and cheese was a winning combination. Enjoy!
Flatbread– you can make your own or simply pick some up at the grocery store like I did. I got a 2 pack in the deli section.
Steak Bites– I am trying to mix dinners up a bit at my house, so we opted to go meatless!
Ingredients:
2 8-inch flatbreads
1 cup Gardein's Homestyle Plant Based Beefless Tips
3/4 cup fresh spinach leaves
1/2 cup grape tomatoes
1/4 cup sliced red onion
1/4 cup grated Parmesan Cheese
1 cup grated or sliced Mozzarella Cheese
3 TBSP olive oil
1 tsp minced garlic
1/2 tsp dried Rosemary
1/4 tsp coarse salt
pepper to taste