Apple and Pomegranate Quinoa and Kale Salad with Feta in a Curried Maple Dijon Dressing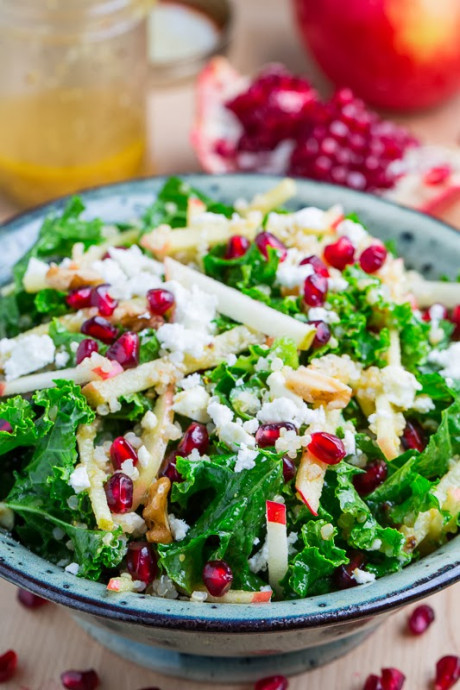 A winter apple and kale salad with quinoa, pomegranate, feta and walnuts in a curried maple dijon vinaigrette.
Just because it's winter doesn't mean that you can't have some tasty salads! This has to be one of my favourite winter salads using apples, pomegranate and kale, all of which are still readily available in the colder months. Kale makes a surprisingly good base for salads and when you pile on quality ingredients like apples, pomegranate, walnuts and feta things just keep getting better. I like to bulk this salad out with the addition of quinoa making it a nice light meal that is just packed with healthy ingredients. For the dressing I like to go with a simple maple dijon vinaigrette spiked with a touch of curry far a hint of the exotic that goes perfectly with apples.
Ingredients:
1/3 cup quinoa, rinsed
1/2 cup water
6 cups kale, finely sliced
1 large apple, finely sliced or diced
1/4 cup pomegranate
1/4 cup walnuts, coarsely chopped
1/4 cup feta, crumbled
2 tablespoons cider vinegar
2 tablespoons olive oil
1 clove garlic, minced
1 tablespoon maple syrup
2 teaspoons dijon mustard
1/2 teaspoon curry powder
salt and pepper to taste