Italian Mac and Cheese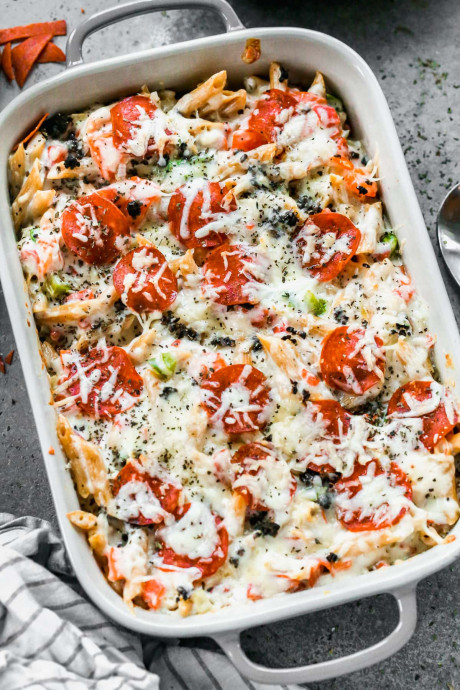 This Italian Mac and Cheese recipe combines two of food's greatest gifts—pizza and macaroni and cheese—into a single casserole of melty, gooey delight.With three different kinds of cheese and any of your favorite pizza toppings, this Italian mac is a shoo-in instant family favorite.
It will be welcomed with equal enthusiasm from both the kids and adults dining at your table.
It's also proof that kid-approved recipes don't have to be bland, deep-fried, or served with a side of ketchup. If you're not a fan of pepperoni, try making Italian mac and cheese with sausage by stirring in 1/2 pound of cooked ground Italian sausage. Choose a chicken or turkey Italian sausage to cut fat and calories. Cooked ground beef can be used too but I go with the lower fat options!
Ingredients:
12 ounces whole wheat pasta noodles (such as rigatoni or penne)
1 tablespoon extra virgin olive oil
1 large yellow onion diced
1 green bell pepper diced
1 red bell pepper diced
1 can diced tomatoes (14 ounces) drained
3 tablespoons unsalted butter
3 teaspoons minced garlic
1/4 cup all-purpose flour
2 1/2 cups non-fat milk
1/4 cup half and half
1 teaspoon crushed red pepper flakes
3/4 teaspoon salt
1 teaspoon dried oregano
1/2 cup plain Greek yogurt
1/2 cup freshly grated mozzarella cheese
1/2 cup freshly grated fontina cheese
3 ounces turkey pepperoni slices (about 50 slices)
1/4 cup pitted black olives chopped
1/3 cup freshly grated parmesan cheese