Easy Parmesan Chickpea Soup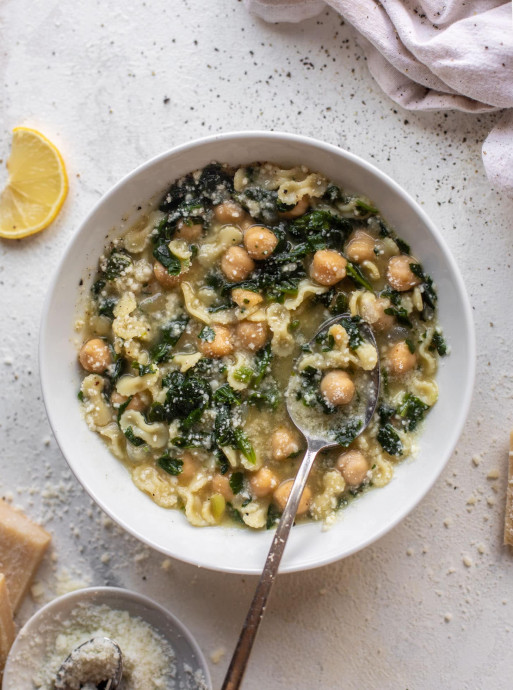 This super simple parmesan chickpea soup is so easy, nourishing, satisfying and comforting. It comes together so fast, only requires a few ingredients, is loaded with spinach and tastes incredible. The parmesan broth is everything. Enjoy!
This soup is going to become a major staple in your menu plan. Especially this time of year! It is so easy, so satisfying and comes together so quickly. It's flavorful, loaded with chickpeas, greens, a touch of pasta and lots of parmesan cheese. We're talking an excellent parmesan broth that you'll want to use for everything.
This soup tastes like a soup that you know. Kind of familiar. It tastes like comfort food on a cold night. In fact, the dish sort of reminds me of my garlic spinach pasta with chickpeas, but in soup form. And minus the spicyness. It's simple but hearty at the same time.
Ingredients
1 tablespoon olive oil
½ sweet onion, diced
3 garlic cloves, minced
kosher salt and pepper
1 pinch crushed red pepper flakes
1 can chickpeas, drained and rinsed
1 parmesan rind
4 cups chicken or vegetable stock
¾ cup tiny-cut pasta, like ditalini or farfallini
5 ounces frozen spinach or 8 ounces fresh spinach
parmesan cheese, for topping
lemon wedges, for spritzing