Shrimp Scampi with Zucchini Noodles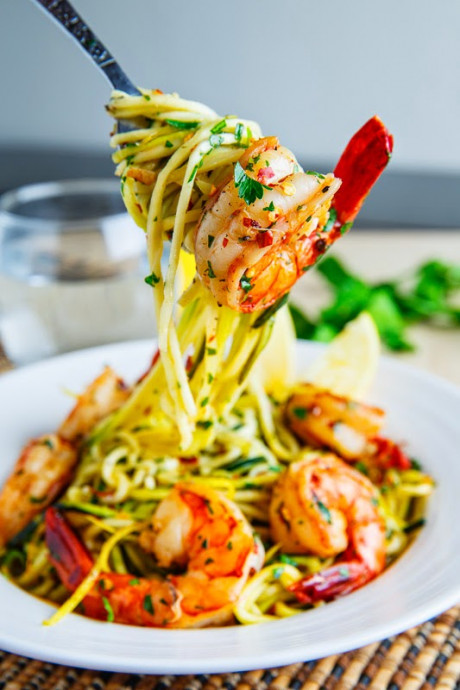 Shrimp served in a lemony, garlicky and buttery sauce over a bed of light and fresh zucchini noodles, aka zoodles; a lighter take on shrimp scampi.
Zucchini noodles, aka zoodles, have been making their way around the food sphere for a while now and I finally jumped on the band wagon and tried them out and I was pleasantly surprised that they make an excellent substitute for noodles, rice, etc. Not only are zucchini noodles lighter and healthier but but they hold up like real noodles and they are a great way to sneak in some extra vegetables into your meals! One of the first dishes that I thought to use zoodles in was one of my favourite pasta dishes, shrimp scampi linguine, a dish where shrimp is served on pasta in a lemony, garlicky and buttery sauce. If you are into the lemon, butter and garlic combo (and who isn't???) then this dish is for you and it's so quick and easy to make, taking less than 20 minutes in total! The zucchini version of shrimp scampi is so much lighter and fresher than the pasta version and I think that I may just like it even more than the original!
Ingredients:
1 tablespoon olive oil
2 tablespoons butter
1 pound (16-24) shrimp, shelled and deveined
4 cloves garlic, chopped
1 pinch red pepper flakes (optional)
1/4 cup white wine or chicken broth or shrimp broth
2 tablespoons lemon juice (~1 lemon)
3 medium zucchini, cut into noodles
salt and pepper to taste
1 teaspoon lemon zest
1 tablespoon parsley, chopped