Sweet Chili Chicken Salad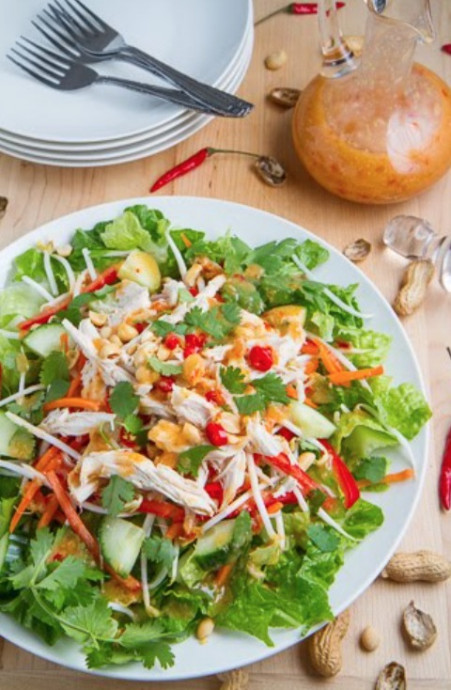 A fresh and tasty chicken salad in a Thai sweet chili sauce dressing.
Armed with my shiny new sweet chili dressing it was time to use it and it only seemed natural to use it in a chicken salad since the idea came when I was enjoying a chicken satay salad in spicy peanut dressing . I decided to go with a lettuce base for this salad and then I filled it out with some ingredients that I commonly use in Thai style dishes including bean sprouts, carrots, red peppers and cucumbers. Next up is the chicken and to make things easy I used shredded chicken so you can use any leftover chicken that you may have.
The salad is then garnished with chopped peanuts, sliced chilies and some fresh herbs including one or more of the following: cilantro, mint and Thai basil. I have to say that the resulting salad has to one of the best that I have had in a while! It is so fresh, juicy, crunchy and full of flavour provided by the amazing sweet chili dressing ! One thing that I noticed is that the dressing clings to the chicken nicely ensuring that the chicken in nice and moist and very tasty!
Ingredients:
2 cups chicken, cooked and shredded
4 cups lettuce, sliced
2 cups bean sprouts
1/2 red pepper, sliced thinly
1/2 cup carrot, sliced thinly
1 cup cucumber, sliced
2 green onions, sliced
cilantro to taste, torn (optional)
mint to taste, torn (optional)
basil to taste, torn (optional)
chilies to taste, sliced (optional)
peanuts to taste, toasted and chopped
1/4 cup sweet chili dressing